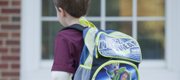 Subscribe to the email edition of First Bell and we'll deliver you the latest local education news and notes every weekday at noon.
Members of the Lawrence school board met for all of 62 seconds Thursday to approve personnel moves before today's arrival of a contractual deadline.
Board members, gathering for a special meeting at district headquarters, 110 McDonald Drive, voted unanimously to accept three resignations for the coming year:
Frank Harwood, the district's chief operations officer, who is leaving to become superintendent of the Bellevue school district at the edge of Omaha, Neb. His resignation is effective June 30.
Felton Avery, who is resigning as a full-time assistant principal at Lawrence High School but will remain at the school as a part-time assistant principal for the coming year. His resignation is effective July 1.
A teacher at Kennedy School, whose resignation is effective May 25.
The district's annual employee contracts become effective Friday.
Copyright 2018 The Lawrence Journal-World. All rights reserved. This material may not be published, broadcast, rewritten or redistributed. We strive to uphold our values for every story published.