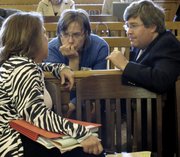 Topeka — With the legislative clock winding down, work on the state budget halted Friday as House and Senate leaders announced an impasse.
House Republicans, who hold a 92-33 majority, blamed Republicans in the Senate, while Senate Republicans, who hold a 32-8 majority, blamed Republicans in the House.
And Democrats blamed Gov. Sam Brownback, a Republican.

"He's got 92 and 32," said Senate Democratic Leader Anthony Hensley of Topeka. "It's important the governor show some leadership."
Both Hensley and House Democratic Leader Paul Davis of Lawrence also complained that Brownback has shut out Democrats from budget negotiations.
Early Friday, Ways and Means Chairwoman Carolyn McGinn, R-Sedgwick, told House budget negotiators that the last two budget offers from the House had gone backwards and the two sides were "growing further apart."
House Appropriations Chairman Marc Rhoades, R-Newton, said, "I think the House feels we have done most of the giving."
The two sides agreed to meet again Monday but set no time. McGinn said she wanted the House to produce another offer.
After 13 rounds of meetings, the House and Senate remain far apart on all major budget items, including funding of public schools and social services.
Essentially, the House wants to cut more spending in order to build up a larger ending balance for the next fiscal year, which starts July 1.
House Speaker Mike O'Neal, R-Hutchinson, said a larger ending balance helps the state maintain cash flow in the event that revenue collections fall below projections.
"Your revenues don't come in as estimated, you go under water and everyone gets cut," O'Neal said. He said the ending balance should be in the $50 million range.
Senate leaders said they don't want to build an ending balance at the expense of funding needed services. Their ending balance proposal is around $26 million, which includes $22 million in revenue that came in above the estimate for last month.
"We'd all like a healthy ending balance in this budget," said Senate President Steve Morris, R-Hugoton. "But, we'd also like to make sure our local schools stay open, our senior citizens are cared for, and our economy remains on track for recovery. We have the ability to do both."
And, as in all legislative sessions, there are several policy issues unrelated to the budget that come into play.
When legislators return Monday, it will be the 87th day out of a 90-day scheduled session.
McGinn has filed a bill that would cut off legislative pay after Thursday if the session goes into overtime. O'Neal described the bill as "window dressing." He said it would be impossible to put it into effect in a timely manner, but he said he agreed with the sentiment and would urge all legislators to forgo their pay if the session goes beyond Thursday.
Copyright 2018 The Lawrence Journal-World. All rights reserved. This material may not be published, broadcast, rewritten or redistributed. We strive to uphold our values for every story published.