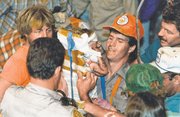 Midland, Texas — Baby Jessica is all grown up. She's Momma Jessica now.
The toddler who tumbled down an abandoned water well and got trapped more than two decades ago turns 25 today, a milestone that gives her access to a trust fund of up to $800,000 donated by thousands of sympathetic strangers who spent 2 1/2 days glued to the television until she was free.
Jessica McClure Morales is now a contented stay-at-home mother of two, and her youngest is 18 months old — the same age she was when her accident drew the eyes of the world to this oil-patch city. She lives less than two miles from the site of the 1987 rescue.
"That's all Jessica has ever wanted was to be a mom and have a family," said her father, Lewis "Chip" McClure. "She's a good mom and keeps her eyes on her kids. She's certainly a doting mother."
McClure Morales has no memory of being wedged in the pipe or of the 15 operations that followed her ordeal, according to her father. A scar from her hairline to the bridge of her nose is still visible where her head rubbed against the wall of the well. She also lost a toe to gangrene because one leg was pinned above her head in the underground shaft.
These days, she and her husband run a mobile car- and truck-washing business out of their home, according to a recent interview she gave to the Dallas Morning News.
In October 1987, McClure and his wife, Reba "Cissy" McClure, were poor teenagers struggling to make ends meet during the depths of the oil bust. While visiting her sister, Jessica's mother left her in the yard while she went to answer the phone. Moments later, Jessica came upon the 8-inch well opening and fell inside.
Her plight captivated an immense television audience. Alone and 22 feet below ground, Baby Jessica sang about Winnie the Pooh.
It was "a nightmare that got worse and worse," recalled her father, now 42, who makes his living selling aircraft in Tyler.
When rescuers finally brought her to the surface, her head was bandaged. She was covered with dirt and bruises, and her right palm was immobilized to her face. The image was ingrained in millions of people's memories and won a Pulitzer Prize for Odessa American photographer Scott Shaw.
A 1997 poll taken by the Pew Research Center for the People and the Press found that coverage of Princess Diana's death earlier that year was rivaled only by Jessica's rescue in worldwide attention over the previous decade.
At the time of the accident, sympathetic strangers showered the family with teddy bears, homemade gifts, cards and cash.
McClure said his daughter has talked about first setting up trusts for her two children's college education. He said he's encouraged her to find a financial adviser.
"We've talked about it quite a bit," McClure said. "That's going to be a challenge. It'd be a challenge to anyone. She's a very settled and down-to-earth girl. She'll be fine."
Bank documents show the couple's home was purchased with help from the trust.
Carroll Thomas, Midland's mayor in 1987, said the city's reputation benefited from the rescue. Most people around the world had not heard of Midland back then.
"They had a good feeling about Midland because they read about it and saw how hard we were working," he said. "It went on so long."
About three years after the TV cameras left, Chip and Cissy divorced. Both have remarried. McClure Morales' mother, now known as Cissy Porter, did not respond to a phone message.
McClure said he and his ex-wife allowed their daughter to decide whether to talk to the media once she became old enough. She has spoken publicly just three times and declined interview requests from The Associated Press.
Jessica's low-key personality has helped her adjust over the years, her father said.
"She's not a center-of attention person," he said. "She just doesn't think a whole lot about it."
Copyright 2018 The Associated Press. All rights reserved. This material may not be published, broadcast, rewritten or redistributed. We strive to uphold our values for every story published.