Editor's note: This is one in a series of occasional stories written in conjunction with Kansas' 150th birthday.
"I was born on the prairie where the wind blew free and there was nothing to break the light of the sun. I was born where there were no inclosures and where everything drew a free breath. I want to die there and not within walls."
— Quote from Comanche Chief Ten Bears at 1867 Medicine Lodge Peace Treaty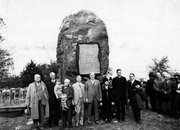 • • •
Go anywhere in Kansas and the influence of the Native American tribes who lived on this land is there.
It is in the names we give our places: the Ninnescah and Kansas rivers; our cities: White Cloud, Topeka, Wichita and Tonganoxie; and counties, Pawnee, Cherokee, Cheyenne, Osage, Ottawa, Pottawatomie and more.
Even our state owes its name to the Kanza Indians, known as "People of the South Wind."
It was 17th-century French mapmakers who named the territory after the Kanza or Kaw people.
Many of our trails and highways — the Santa Fe, the Chisholm, the Cherokee — originated with tribes searching for the quickest routes.
Explore the back roads and look closely on sandstone bluffs at the drawings — of teepees and stars, deer and bison — centuries after they were etched; walk in fields and see the pottery shards and arrowheads.
After more than 15 decades of pioneers plowing the prairie and building cities, the Native American mounds and sacred places of the first civilizations of Kansas have not been destroyed.
"We are still here. The first people of Kansas, the people who gave Kansas its name, we are still strong and growing stronger all the time," said Jim Pepper Henry, a Kaw tribal member who has spent his career specializing in indigenous tribe historic preservation. He is director of the Anchorage Museum in Alaska.
"Wherever we live in the world, we are the first Kansans," Pepper Henry said. "It is in my blood. My roots are in Kansas. I am always going to be a Kansan, though I have never lived in Kansas as a citizen. My people weren't given the choice of staying."
His sentiment is echoed by the descendants of other tribes.
Hunters, gatherers, farmers
Researchers estimate more than 15,000 archaeological sites have been documented in Kansas — the vast majority Native American.
"People have been here since the end of the Ice Age, over 11,000 years," said Bob Hoard, state archaeologist.
When most people think of American Indians, they think of them mounted on horses. That didn't happen until about 1500, and only after the arrival of Spanish conquistadors, Hoard said. Even the bow and arrow are recent, developed about 2,000 years ago.
"Most of the early people lived solely off of wild foods that they hunted and gathered," Hoard said.
They grew crops of tobacco, corn, squash, beans and sunflowers.
They lived quietly and with little impact to the land compared with the buffalo hunters and homesteaders that would follow.
"What strikes me is that some of the earliest people in Kansas hunted very large Ice Age animals, the woolly mammoth and a now-extinct form of bison," Hoard said.
Sacred places
Early tribes believed that some places were more sacred than others, where human beings and the supernatural mingled, according to Don Blakeslee, a professor of anthropology at Wichita State University.
Blakeslee has spent much of his career researching Native American sacred sites throughout the Midwest.
One of those places is Waconda Springs in Mitchell County near Glen Elder, where Native American tribes believed God created a fountain of mystic medicine and the spirit of the sun.
"They believed the supernatural power there gave them the ability to cure disease, the spirits of the animals had power," Blakeslee said. "They believed the spirits of animals lived in the underworld and this was a place humans could go and make contact with the animals' spirits."
The Pawnee, Wichita, Kaw, Potawatomi, Crow and other tribes are known to have visited the springs. The water was sacred and open to any group, friendly or not, Blakeslee said.
When European settlers came to the area, they created a "Lover's Leap" legend about an Indian maid named Waconda who came across a wounded man crying for water. She hurried to the spring and brought him water in a deerskin bag.
The two discovered they were from rival tribes, but by this time they were in love. The girl's father wouldn't allow them to marry. A war broke out, and the wounded man, named Takota, was killed by an arrow. He fell into the springs, and Waconda, who had been watching, ran to the water's edge and with raised arms appealed to the gods, then plunged in after him.
Around the turn of the century, the springs were commercialized into a health resort with a hotel and brewery known as Waconda Springs. The area has since been covered by Waconda Lake.
The large majority of sacred sites were destroyed with European settlement, but some survived, although sometimes altered.
Pawnee Rock near Larned, some historians believe, was where Indian tribes such as the Arapaho, Kiowa, Comanche and Cheyenne gathered for councils of war and peace.
The rock soared more than 150 feet above the prairie and proved to be a lookout point for tribes to spot buffalo herds and approaching wagon trains along the Santa Fe Trail.
The rock, midway between Independence, Mo., and Santa Fe, N.M., also was considered one of the most dangerous spots along the trail. Passersby on the wagon trains would carve their names into the soft stone.
Pawnee Rock was quarried away by early settlers. Much of its Dakota sandstone was used to build the Santa Fe Railroad and area buildings.
Almost anywhere you go, there is evidence of the first people of Kansas.
Look closely
It is easy to overlook the special places, such as in Rice County where centuries-old circular dirt mounds and depressions in the shapes of animals lie hidden along ridges.
"You go up there and it looks like nothing at first," said Maggie Carlson, director of the Coronado Quivira Museum in Lyons. "The first time I went up there it was difficult to see, but once you are there, once you understand it, you can embrace that idea of place — that you are connected to the land you live on. You can see how this would have been viewed as holy ground."
Voices of Kansas
Although most Native American tribes were forced out of Kansas in the late 19th century, the state today recognizes four tribes with land: the Iowa Tribe of Kansas and Nebraska, the Prairie Band of Potawatomi Nation, the Kickapoo Tribe in Kansas and the Sac and Fox Nation. All are located in eastern Kansas.
But for those tribes the military forced to leave in the late 19th century and move into Indian Territory — now Oklahoma — some of those wounds run deep a century later.
Some were nearly decimated. The Pawnee went from a population of nearly 30,000 to 600 in a 70-year period, said Richard Gould, site curator at the Pawnee Indian Village near Republic.
"They suffered from smallpox, cholera and measles. They didn't have any immunities to the diseases," Gould said.
That's why it is so important to maintain a Native American presence in Kansas, Pepper Henry said.
The Kaw Nation nearly slipped away.
At one point, the Kaw claimed a territory that covered roughly two-fifths of modern Kansas and parts of Nebraska and Missouri.
In 1873, when the tribe was forced from Kansas, it had fewer than 500 members. By 1902, fewer than 200 were on the tribal rolls. Today, the Kaw nation has nearly 3,500 members.
Each June, Council Grove hosts Washunga Days as a time to celebrate the Kaw legacy to the community.
"It is like a welcome home," Pepper Henry said.
But nearly a decade ago, when the Kaw began acquiring land around the community to establish the Allegawaho Memorial Heritage Park, the sentiment changed, he said.
"People were worried we would build a casino in Council Grove," he said. "It was like it was 130 years ago. We were wonderful and beautiful as long as we stay out of Kansas. If we try to reclaim our traditional land, then the sentiment changes quickly."
Some Native Americans view Kansas today with mixed feelings. But without a doubt, the Native American influence is still here.
"The Keeper of the Plains statue was given in goodwill between the Indians and non-Indians of Wichita," said Milton Youngbird Hamilton, a Cheyenne. "A lot of times, people think the Indians were nothing but killers and out to no good. But the real history is that they wanted peace. They didn't want killing and all that. They tried every which way to foster peace."
Copyright 2018 The Lawrence Journal-World. All rights reserved. This material may not be published, broadcast, rewritten or redistributed. We strive to uphold our values for every story published.