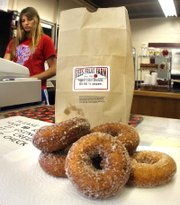 Topeka — A policy aimed at increasing the amount of Kansas-based ingredients used in products sold at a farmers' market held every Wednesday on the Statehouse grounds has sacked the sale of popular cider doughnuts.
The Kansas Department of Health and Environment said the Rees Fruit Farm cider doughnuts can't be sold at the market because they are made with a mix that doesn't contain whole wheat flour from Kansas, The Topeka Capital-Journal reported Wednesday.
The ban is required by a new state regulation designed to fulfill the Capitol Midweek Farmers' Market's mission, which is to increase access to fresh, locally grown produce and provide a walking destination for the 35,000 employees working in downtown Topeka, said health department spokesman Jonathan Larance.
Kathleen Mabry, with Rees Fruit Farm customer service, said the doughnuts are made with a mix containing bleached wheat flour, which isn't from Kansas.
Larance acknowledged that some people have complained to the health department about the ban. The market was started in 2006 by the health department and the Kansas Department of Commerce and is managed this year by J.D. Warnock of the health department.
Like all vendors, Rex Rees, owner and operator of Rees Fruit Farm, filled out an application for a spot at the market that lists the market's policies and requirements, Larance said.
The policy reads: "If baked and/or processed goods are included in products for sale by licensed vendors, all main ingredients must be grown and processed in Kansas. All baked and/or processed foods including: breads, scones, cookies, cakes, cinnamon rolls, fruit pies, must be made using whole wheat four from Kansas."
Larance said Rees told Warnock in April that the cider doughnuts Rees Fruit Farm sells are made with a mix that doesn't include whole wheat Kansas flour. Warnock told Rees where to buy whole wheat Kansas flour or mixes that contain it.
Rees Fruit Farm is still one of the 16 permanent vendors at the market. It also sells at the Downtown Topeka Farmers' Market on Saturdays.
"We have sold the doughnuts there before," Mabry said. "We will still be at the Wednesday market, and we will have doughnuts at the Saturday farmers' market."
Copyright 2018 The Associated Press. All rights reserved. This material may not be published, broadcast, rewritten or redistributed. We strive to uphold our values for every story published.