Photo Gallery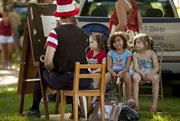 2011 Fourth of July in Lawrence
Lawrence residents gathered at Watson Park, Seventh and Kentucky streets, Monday afternoon to enjoy live music, eat local food and, more than likely, sweat through their clothes.
It was a hot Fourth of July this year, with temperatures approaching 90, and many of the hundreds of people at the Lawrence Originals Party in the Park sought out shade. Bluegrass music blared from the stage as children ran in the grass, while others grabbed food from one of the 19 booths serving food from Lawrence restaurants. There was also a three-legged race for those feeling the need to run around in the heat.
Constance Wolfe, Lawrence Originals founder who helped organize the event, said this year's third edition was probably the biggest one so far. She said she expected about 5,000 to 10,000 people to attend.
Tiffany Taber and Blake Warford came to the park after working on their house for most of the day. They planned on staying for dinner and said they would probably go to the river to watch the fireworks. The Lawrence couple, who are originally from Tulsa, Okla., said they enjoyed having an event that lasted all day.
"Even with all the fireworks in Tulsa, it started at 8 or 9, and ended at 10," Taber said. "It's like you waited all day long, and then you had two hours."
Copyright 2018 The Lawrence Journal-World. All rights reserved. This material may not be published, broadcast, rewritten or redistributed. We strive to uphold our values for every story published.