Photo Gallery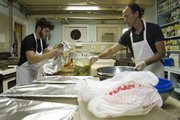 2011 LINK kitchen Fourth of July meal
Rick Martin, executive chef at Free State Brewing Co., spent Monday morning in the restaurant's kitchen preparing a medley of Fourth of July staples: barbecue pork and chicken, pasta salad, baked beans and corn.
Martin had the day off Monday, and the feast he prepared wasn't for customers — it was for the Lawrence Interdenominational Nutrition Kitchen, 221 W. 10th St.
LINK provides free and nutritious meals in its goal to eliminate hunger as well as loneliness, and four times a week and on holidays volunteers prepare food for those in need of sustenance as well as companionship.
It's a service that someone needs to provide, said Gregory Moore, director of LINK.
"There's a lot of really nice, decent people that come in here that just fell on hard times," he said. "It's kind of rewarding for me personally to help out."
P.J. Tovar-Ballagh, a cook at Free State, originally approached Moore about contributing meals to the organization. Tovar-Ballagh got the idea after he organized a fundraiser in honor of a friend who had recently died.
"It felt good to contribute on that level, and I wanted to keep that mentality going," he said. He pitched the idea to Martin, who said he thought it was a great opportunity.
"It's a perfect place to donate my time and energy," Martin said.
Monday was the fifth time Martin and Tovar-Ballagh cooked for LINK, and they plan on returning in February. Martin said he would like to see other Lawrence restaurants donate their services.
"People should find time to help the community," he said. "It's rewarding, especially if you have a talent."
Individuals, families and the unmistakable smell of freshly smoked barbecue filled the LINK dining room Monday afternoon, located in the basement of the First Christian Church, 1000 Ky. Tim Van Natta and Melinda Miller sat together and talked as they waited for lunch.
"It's always great food," Van Natta said.
LINK relies on the community; it receives no city funds and operates off donations and volunteer work.
Moore said Tovar-Ballagh is just one of many Lawrence residents to contribute to LINK.
"He feels really appreciative that I let him do it, and it should be the other way around," Moore said. "It's a pretty neat deal that there's people like that in Lawrence."
Copyright 2018 The Lawrence Journal-World. All rights reserved. This material may not be published, broadcast, rewritten or redistributed. We strive to uphold our values for every story published.