Joplin, Mo. — The May 22 tornado virtually erased two residential areas that were important in the early development of Joplin.
"Blendville and Schifferdecker's First Addition were part of the early bedrock of Joplin," said Leslie Simpson, an expert on Joplin's architectural history. "When these neighborhoods are rebuilt, they will be so totally different. A person will have no concept that these important neighborhoods were ever there."
In addition to the neighborhoods, some historic homes and buildings were lost, including the oldest remaining buildings of the Blendville Water Treatment Plant.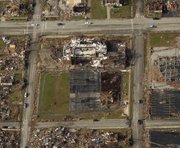 While large neighborhoods have been lost, an effort is under way to preserve the history of the tornado itself. Artifacts are being collected to reflect the power of the tornado.
Samuel Brister, of Seneca, was shopping with his family at the Walmart store at 15th Street and Range Line Road when the tornado hit. He and his family survived a direct hit in the store, but their 1992 GMC conversion van was not so lucky. It was found a few blocks away, wrapped around a tree.
"We had just bought it," Brister said. "We hadn't had a chance to get insurance on it. I'm just glad nobody was in it."
The van has been eyed by the city of Joplin as among those that might be preserved to show how badly the tornado mangled vehicles. An estimated 18,000 vehicles were lost in the storm.
Patrick Tuttle, director of the Joplin Convention and Visitors Bureau, said: "Since the beginning of this, we have been looking for ways to document what happened. Not knowing how to document it for the future, we decided to acquire some unique pieces now that someday might be used in a monument.
"These examples represent the worst of what the tornado did, and that van is among the worst. You want them in case you need them."
The city is not purchasing the vehicles and has not purchased the van. So far, two ruined vehicles have been donated. The van has a scrap metal value of $175.
Kelly Samuel, a friend of the Brister family, is storing the van on her property east of Carthage. She said: "If anyone has an old van they want to donate, this family sure could use it. If someone can help them, we would give this van to the city for its museum."
Simpson said the memory of Blendville and Schifferdecker's First Addition will now last only in photographs because so little survived the storm.
"Blendville was one of the original towns," she said. "It was a separate town. It had its own school, churches and businesses. They had their own Main Street. At one time, Blendville had a couple of thousand people."
Blendville was established in southwest Joplin as Cox Diggings in 1876. The prosperous community incorporated as Blendville, so named because of the huge amounts of zinc blend in the ground.
"There was mining all around Blendville," Simpson said. "It was completely undermined over by St. John's."
Thomas Cunningham, who founded the Bank of Joplin in 1882, owned the original area that would become Blendville.
"Cunningham owned the residential area, which he divided into lots and sold at low rates so that miners could afford their own homes," said Simpson. "The early stuff would have been miners' shacks. But it became a nice place to live."
The city's streetcar line was extended to Blendville. In 1892, Joplin annexed the village. In July 1898, while he was serving as mayor, Cunningham donated Cunningham Grove as Joplin's first city park. The tornado took out most of the original Blendville area, including Cunningham Park.
The tornado caused significant damage to a building that was constructed in 1887 as part of the Blendville Water Treatment Plant. A second building, constructed in 1901, was destroyed.
Don Jackson, lead operator of the plant for Missouri American Water Co., said the 1901 filtering building will be reconstructed to look like the original.
"The building built in 1887 had significant damage to its roof, but we think it can be rebuilt," he said. "It had a steam-driven pump put in it in 1899. It supposedly is the only one like it left in the United States."
Also destroyed by the tornado was the historic Carl Owen house, which was built in about 1911. The house overlooked Cunningham Park.
"We have so many tales about that house," said Simpson. "People have said it once was a restaurant, a church and a mining office. Our earliest records give no proof it was anything but a house. It was very unique in its style. There was none like it in Joplin."
The other area of historic significance was Schifferdecker's First Addition, a residential area developed in the south part of Joplin beginning in 1900. The Joplin Globe referred to the area lying south of 20th Street and fronting on Wall and Joplin avenues, and Main Street, as "a beautiful new addition affording the most desirable building property" to be found anywhere in the city.
Copyright 2018 The Lawrence Journal-World. All rights reserved. This material may not be published, broadcast, rewritten or redistributed. We strive to uphold our values for every story published.