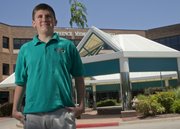 Bryce Ridgway knew how he wanted to mark his 14th birthday. He wanted to become a youth volunteer at Lawrence Memorial Hospital.
It's an unusual birthday request, but Ridgway is an unusual teen. In the year and a half since he submitted his volunteer application on the day he turned 14, Ridgway has logged nearly 400 volunteer hours at LMH, won the admiration of LMH staff and volunteers, and earned himself a nomination as the 2010 Wallace Galluzzi Outstanding Volunteer Award for Youth, presented annually by the United Way Roger Hill Volunteer Center.
Ridgway, a sophomore at Free State High School, has volunteered in nearly every area of the hospital, whipping up meals in the cafeteria, manning the information desk and transporting patients. But his favorite task is listening to patients talk about their lives.
"All the patients have their certain stories, and if they are old enough, they will spill their life stories out to you," he said.
Ridgway has spent many hours listening to patients as he joins them for meals or to play games. Working with an array of people at LMH has given him more confidence.
"I've learned how to communicate better with people and not to jump to a conclusion based on their appearance," he said.
The impact Ridgway has had on LMH is remarkable, said Becki Carl Stutz, student volunteer coordinator for LMH.
"It's highly unusual to see a freshman in high school dedicate so many hours to volunteer activities on top of school and other extracurricular endeavors. So the fact that he finds time to be here over 20 hours a month is amazing.
"He comes in over school breaks and during snow days, because, in his words, 'It's better than sitting at home playing video games.' But what is most impressive about Bryce is that he comes in on Sunday mornings at 7:30 a.m. to volunteer. What kid do you know that gives up sleep to volunteer?"
Last year, LMH used 870 adult and youth volunteers, who provided 65,000 hours of service, Carl Stutz said.
"We couldn't do much of what we do as a hospital without our volunteers," she said. "We would be at a loss without them."
In August, LMH will begin taking applications for youth volunteers for the 2011-2012 school year. For more information, visit lmh.org or contact Carl Stutz at becki.carlstutz@lmh.org or 505-3146.
Copyright 2017 The Lawrence Journal-World. All rights reserved. This material may not be published, broadcast, rewritten or redistributed. We strive to uphold our values for every story published.