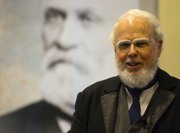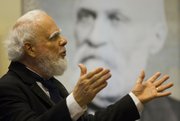 There was plenty of fanfare at the Carnegie Library building Saturday as a new history exhibit opened celebrating Lawrence and the region's contributions to freedom.
Tributes to Bleeding Kansas, the Civil War up to the civil rights era lined the walls of the city's refurbished building at the corner of Ninth and Vermont streets, and members of the public got their first peek of the exhibit Saturday.
For Lawrence resident Deanell Tacha, a founding chairwoman of the Freedom's Frontier National Heritage Area, it was a highlight to just see people's faces.
"It's just been so inspiring. We've had people of all ages in here," said Tacha Saturday evening as she greeted dozens of people who streamed in for the evening grand opening event.
Tacha said young people and educators were part of an afternoon crowd that came to view the exhibits. Several city and county leaders attended the evening grand opening, which included Harold Riehm portraying Charles Robinson, the state's first governor.
Judy Billings, director of the organization that oversees the heritage area, said the exhibit is meant to serve as an introduction for the entire area, which includes 41 counties in eastern Kansas and western Missouri.
The Carnegie serves as the headquarters for the heritage area, and the Lawrence City Commission spent $200,000 of guest tax money to fund the main exhibit.
"It establishes Lawrence and Douglas County as one of the major hubs for the Freedom's Frontier National Heritage Area," Billings said.
Also as part of the evening event, members of the Betty Washington Chapter of the Daughters of the American Revolution donated an American flag to the Carnegie building. Janet Kastl said the flag flew Feb. 25 over the U.S. Capitol at the request of U.S. Rep. Lynn Jenkins.
Kastl said chapter members believed it was fitting to be able to present the flag as part of the new exhibit, and they hoped it could be flown outside some day in front of the building.
"It points to the tradition and the historical significance here in town," she said.
Copyright 2018 The Lawrence Journal-World. All rights reserved. This material may not be published, broadcast, rewritten or redistributed. We strive to uphold our values for every story published.