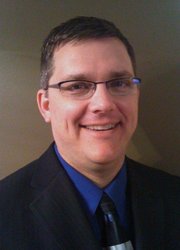 The McLouth school district has hired a Hiawatha administrator as its next superintendent.
The board approved the hire of Steven Splichal, who is assistant superintendent in the Hiawatha school district.
McLouth board clerk Lorie Patterson said Splichal will begin work in McLouth on July 1, but salary and benefit particulars were not yet available. She said she anticipated having that information next week.
"My wife and I are very excited to have the opportunity to go to McLouth, Kansas," Splichal said. "It's a very good school district.
"Lots of great people there and solid staff. I'm just very excited about that. I think they're doing good things for kids. I'm glad to be part of that."
Splichal, who turns 40 Wednesday, earned a bachelor's degree in education from Kansas State University and later a master's degree in education administration from Benedictine College in Atchison, where he taught at Atchison Middle School for five years. He also taught for one year before that in Beloit.
Originally from Belleville, Splichal became principal at Hiawatha Middle School in 2000 and in 2005 became assistant superintendent for the Hiawatha school district.
His wife, Julie, is an eighth-grade science teacher at Hiawatha Middle School. They have three children: daughters Lauryn, an eighth-grader, and Camryn, a fifth-grader; and a son, Garrett, a second-grader. Splichal was one of three finalists to interview for the position last week. Other finalists were Christopher Korb, principal at Tecumseh North Elementary School in the Shawnee Heights school district, and Brian Pekarek, schools superintendent at Clifton-Clyde.
Splichal will replace Jean Rush, whose contract McLouth board members voted not to renew. Her contract ends at the end of the academic year, and last week she was hired as superintendent at Holcomb. Rush became McLouth superintendent in 1999.
Copyright 2018 The Lawrence Journal-World. All rights reserved. This material may not be published, broadcast, rewritten or redistributed. We strive to uphold our values for every story published.