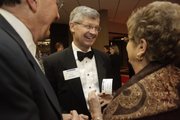 Gary Toebben has come a long way since his years spent with the Lawrence Chamber of Commerce.
Toebben, the guest speaker at Friday night's annual Chamber of Commerce meeting, served 18 years as the president of the local chamber and is now the president and CEO of the Los Angeles Chamber of Commerce in California.
But longtime friend and Lawrence resident Nelson Krueger remembers Toebben's more humble days in town, recalling the then-chamber executive at his first meeting, with the breakfast cosmopolitan club.
"I introduced Gary Toebben," Krueger said, smiling. "He's a great guy and a great economic developer."
Toebben's work in the city of Lawrence still lingers, as a number of the people serving on the chamber staff were recruited by or hired by him. Cathy Lewis, vice president of membership for the local chamber, was one of them.
"He sure knows a lot of people," Lewis said, greeting some of the estimated 500 guests who attended the event at the Holiday Inn Lawrence, 200 McDonald Drive.
Indeed, Toebben spent much of the 90-minute social hour before the event mingling with community members, business leaders and old friends.
"I haven't been to this event in about 12 years now," he said amid numerous handshakes. "You just have to get your mind clicking so you get back in the Lawrence file rather than the Los Angeles file."
Despite the socializing, the event went according to schedule, with dinner and community award presentations performed smoothly.
Toebben's speech, which capped off the event's activities, spoke of lessons learned while serving in Lawrence. He spoke of politics, leadership and business, all areas he's been thoroughly involved in during his 36 years in chamber work, which took place in four different cities across the country. He admitted working in commerce during the recent economic downturn was not without its challenges.
"Economic development and job creation are very competitive," Toebben said. "I liken it to college sports. You better get the right players and put the right support team around them."
Toebben went on to talk about how essential it is that a community help local businesses grow.
"The best thing that can be said about a community," he said, "is that it's business-friendly."
Toebben closed his speech to a standing ovation.
Copyright 2018 The Lawrence Journal-World. All rights reserved. This material may not be published, broadcast, rewritten or redistributed. We strive to uphold our values for every story published.