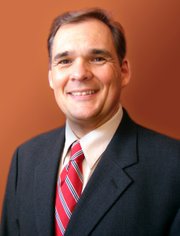 A former Pentagon employee and longtime military man has announced his candidacy for a seat on the Lawrence school board.
Randy Masten, 46, retired as a lieutenant colonel at the beginning of the month after most recently teaching at Fort Leavenworth. He is currently pursuing a Ph.D. in history from Kansas University.
"If we don't help educate our kids, we're not helping Lawrence, the state or the nation," he said.
Masten lives at 934 W. 21st St. with his wife, Kathi, who holds an art history degree from KU, and son Kanak, 9.
Masten said last year's budget issues piqued his interest in the school board. He said he looked at the broad picture and believes a long-term perspective is needed in the current academic situation.
"I think we've got to look at where we want our schools not two years from now, but 15 years," he said. "If we don't have that instinct in mind, what we do is just reactionary."
As a member of the school board, Masten said, his experience as an Army planner and trained strategist will help in evaluating its position and keeping things in perspective.
He said his work as an analyst will allow him to delve into the details.
Masten said he realized keeping Lawrence strong academically and improving the system was necessary for the city to grow and attract businesses.
The challenges that accompany the school board position are the reason Masten said he's running.
"We've just got to take a hard, organized look at where we're at and where we want to be," he said.
Copyright 2018 The Lawrence Journal-World. All rights reserved. This material may not be published, broadcast, rewritten or redistributed. We strive to uphold our values for every story published.