If you've ever purchased 35mm film you may recall the tightly folded instructions that accompanied each box. If you're like me, you immediately threw them in the trash. If you read them you saw some simple instructions on successful picture-taking. One of the recommendations was to keep the sun at your back when photographing. It was like a Kodak commandment. It is a good tip for beginning photographers. Keeping the sun behind you goes a long way to ensuring well-lit subjects, properly exposed images and a sun-burned neck. But breaking this rule can lead to more creative work. I like to place more emphasis on the quality of light rather than the quantity of light.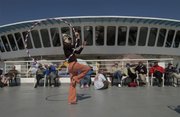 When I approach any subject my first photograph is usually the 'necessary' shot. It is a shot that reveals the scene in good light with an appropriate framing to include all the elements necessary to describe the subject or event to a reader. It ensures I have one image in-hand before the event concludes or the subject runs away. Then I begin to explore different angles of composition, framing devices, moments of significance and the quality of light. In other words I move around a lot, always watching how the light illuminates my subject.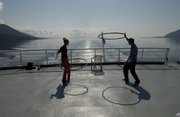 I remember photographing the Douglas County 4-H Fair Horse Show three years in a row. The inside arena is not well lit and is a difficult place to photograph. I probably began each assignment getting my 'necessary' photo of riders outside on horseback. Inside the arena, light enters through large sliding doors. The light was similar each year, but depending on where I positioned myself it had different effects on subjects inside and outside the building. My first year I photographed from inside looking out, catching dark silhouetted images of riders against the outdoor light. My second year I positioned myself to capture soft side-light from the doors illuminating a rider and horse. The third year, I found a bright patch of direct sunlight hitting the arena floor. Riders circling the arena would gallop from dark areas into this door-wide beam of sunlight where I took their photograph.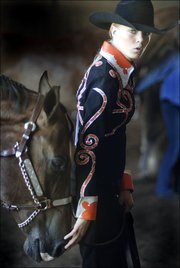 In any photographic situation, pay attention to how the quality of light changes as you move around a subject or within an event. Observe how the illumination of objects in your house change with the movement of the sun. Learning to recognize and seek out photographs using side-light, back-light and other qualities of light can affect your photography.
Copyright 2018 The Lawrence Journal-World. All rights reserved. This material may not be published, broadcast, rewritten or redistributed. We strive to uphold our values for every story published.