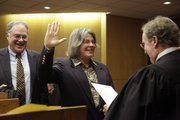 For Kay Huff, the idea of becoming a judge was mentioned before she even started law school.
Huff's thesis adviser at Reed College in Oregon brought it up when she was an undergraduate. And after she became a lawyer, Huff clerked for the U.S. Ninth Circuit Court of Appeals.
"I thought being a judge would be a nice thing, a thing that I would aspire to," she said Monday during an interview.
On Friday, her aspiration became a reality as the Lawrence attorney was sworn in as Douglas County's newest judge.
Huff was sworn in Friday by Chief District Judge Robert Fairchild as her husband, Jonathan Kahn, a retired attorney, helped her put on her new robe. Huff replaces District Judge Jean Shepherd, the county's first female judge who had served since 1984.
Huff, 53, promised to be fair and impartial. She will handle criminal, limited civil, divorce and other family law cases after former Gov. Mark Parkinson nominated her in December.
"It is hard to replace Judge Shepherd since many years of judicial experience walk out of the courthouse with her," Huff said. "But I'm proud to have the opportunity to be a judge in Douglas County."
Shepherd and retired judge Jack Murphy, along with the county's other judges and Kansas Supreme Court Justice Eric Rosen, looked on as Huff spoke during the ceremony in Fairchild's courtroom at the judicial center, 111 E. 11th St.
Dozens of her family members plus fellow attorneys and judicial employees were in attendance.
Huff has been in private practice in Lawrence since 1991 handling both criminal and civil work. In addition to her time as a judicial clerk, Huff has also served as a public defender in Olathe and as a criminal appeals attorney in New York from 1985 to 1988.
"It shows how well-rounded she is and what she's going to bring to the bench," Fairchild said.
She grew up on a farm in northwest Missouri. She said moving to the Lawrence area two decades ago allowed her to be closer to family and said her roots would come into play during her time on the bench.
"My parents believed in hard work and believed in community," Huff said.
Fellow attorneys and friends were enthusiastic about Huff taking office.
"She's bright, intelligent, curious and interested in the community — a real solid addition to the bench," said Charles Whitman, a Lawrence defense attorney.
Her neighbor and fellow attorney Paul Davis said Huff was well respected in the legal community.
"She will be able to hit the ground running really with the wide range of expertise she has had as an attorney," said Davis, who is the Kansas House minority leader.
Huff, who will attend training for new Kansas judges next week, expects her job to be a challenge and says she intends to focus on making sure all parties in her courtroom get to voice their concerns.
"I think the process is important," she said, "in that people are heard."
Copyright 2018 The Lawrence Journal-World. All rights reserved. This material may not be published, broadcast, rewritten or redistributed. We strive to uphold our values for every story published.