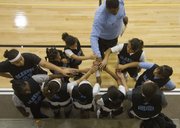 A vibrant downtown, plenty of shopping spots and restaurants, nice facilities and more than just a little bit of basketball tradition: It all adds up to perfect place for youth sporting events, said Bob Sanner, sports marketing manager for the Lawrence Convention and Visitors Bureau.
And families and coaches who traveled to Lawrence this weekend for the Jayhawker Classic youth basketball tournament held at Kansas University agree.
"It's fantastic," said Matt O'Keefe of his experience over the weekend in Lawrence. Even though O'Keefe, coach of the Overland Park-based Blue Valley Swish, lives close by, he said he and his family decided to stay in Lawrence for a mini vacation.
O'Keefe and his wife, both KU graduates, checked out some of their old college-day hot spots, such as the Yacht Club, while the kids relaxed in the pool at the Holiday Inn Lawrence.
"We love the town," he said.
Alan Wilson, coach of the Missouri Valley Magic, brought his team from Springfield, Mo., and said they also had a great time over the weekend. Wilson's team and their families took advantage of some free tickets to the KU women's basketball game Saturday night, spent the weekend at a local hotel and enjoyed some of the local eating spots.
Sanner said that capitalizing on those type of experiences and the draw of increased tourism dollars for local businesses is fueling the Lawrence CVB's bid to become the premiere spot for youth sporting events.
In addition to this weekend's tournament, Lawrence was recently chosen as host of the United States Specialty Sports Association's Winter Basketball National Tournament, to be held March 18-20. The event is expected to draw 4,500 people to town.
Copyright 2018 The Lawrence Journal-World. All rights reserved. This material may not be published, broadcast, rewritten or redistributed. We strive to uphold our values for every story published.