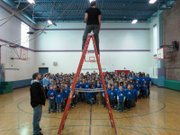 Woodlawn School pulled off quite a feat by being one of 304 winners of a National Blue Ribbon School award, designated by the U.S. Department of Education for academic achievement.
Also notable: getting more than 250 students, staffers, teachers, administrators — and one dog — to pose for a capture-the-moment photo, with each person wearing clothes featuring the award logo and an oh-so-welcome designation:
A NATIONAL SCHOOL OF EXCELLENCE
The students' blue T-shirts came courtesy of the school's PTO, whose leaders financed them using two sources:
• Money provided by Run Lawrence, a group that has used Woodlawn as its staging area for a Thanksgiving Day run.
• Donations from two Woodlawn business partners, First State Bank & Trust, and ICL Performance Products.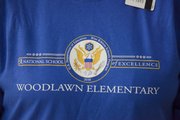 Michelle Iwig-Harmon, PTO president, was among several parents donning such T-shirts during a recognition ceremony Friday at the school, 508 Elm. Parents, teachers and staff were allowed to purchase their own "Blue Ribbon" apparel; a number of teachers went with embroidered sweatshirts.
Principal Jeanne Fridell was the lone purchaser of an embroidered sweater, earning plenty of compliments from co-workers and visitors alike.
The kids certainly appeared to like their award, and complimentary T-shirts that went with it.
"Really awesome," first-grader Lacy Elms said, lining up in the hall.
Which brings us to the other accomplishment from Friday's assembly: getting all 240 or so students to wear their Blue Ribbon T-shirts, on the same day, at the same time.
Turns out that was easy.
"We keep the shirts here during the year," Fridell said, explaining that kids may wear the shirts for field trips, assemblies and other special events. "If we sent them home now, they won't come back."
Students will be able to take the shirts home at the end of the year, for keeps.
They've certainly earned them.
•••
The Lawrence school district's four junior high schools are about to get new names.
Thursday night — during a meeting rescheduled because on Monday's snow — members of the Lawrence school board will be expected to approve names, which would become effective July 1:
• Central Middle School, to replace the current Central Junior High.
• South Middle School, to replace the current South Junior High.
• Southwest Middle School, to replace the current Southwest Junior High.
• West Middle School, to replace the current West Junior High.
The board actually will be expected to do more than change the names. Administrators are asking the board to close the four schools entirely as of June 30, then reopen them with the new names July 1 — a move to ensure that the names transition fits within state regulations.
Still waiting to hear whether the schools will have new exterior signs for next year, or if athletics teams might make any adjustments to uniforms to accommodate the change.
The board meeting now is set for 8 p.m. Thursday at district headquarters, 110 McDonald Drive. The meeting is scheduled to begin following the district's annual Martin Luther King Jr. Educational Event, which is set for 6:30 p.m. Thursday in the auditorium at Free State High School, 4700 Overland Drive.
•••
Also Thursday, board members are scheduled to consider approving the district calendar for 2011-12.
School would begin during the third week of August and end before Memorial Day. One day would be built into the schedule for inclement weather, a.k.a. snow or ice.
Orientation days also would be built in:
• Middle school: Sixth-graders would attend the morning of Aug. 16, while seventh-graders would attend the afternoon of Aug. 16.
• High school: Ninth-graders would attend Aug. 16, while 10th graders would attend Aug. 17.
— The First Bell e-mailbox is always open: mfagan@ljworld.com.
Copyright 2018 The Lawrence Journal-World. All rights reserved. This material may not be published, broadcast, rewritten or redistributed. We strive to uphold our values for every story published.