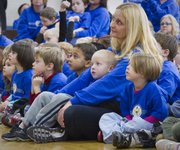 Tania Jackson retains plenty of memories from her elementary years: jumping to touch the tops of door jambs, schooling boys in gym and looking up to — and at — her dedicated teachers at Woodlawn School.
Now that she's a 6-foot 2-inch forward for the Kansas Jayhawks, those days may be gone. But at least some of her biggest lessons still endure.
"I want to go to the library," Jackson said at the school Friday morning, as a supporter lauded her after-school athletic exploits. "I'm better in there."
Jackson's allegiance to academics isn't going anywhere, something to which Woodlawn's students, their teachers and administrators can now relate.
Jackson joined Coach Bonnie Henrickson and Rick Doll, superintendent of the Lawrence school district, in congratulating Woodlawn for being named a National Blue Ribbon School for 2010.
The designation, from the U.S. Department of Education, went to only 304 schools nationwide. Recipients are described as having students who achieve at very high levels or have made significant progress and helped close gaps in achievement, especially among disadvantaged and minority students.
"This is a really, really big deal," Doll told the students during an all-school assembly.
His message for educators, who have used testing data to focus instructional efforts: "I'm in awe of what you've been able to accomplish."
Henrickson lauded the kids for their hard work, sacrifice, discipline and pride in achieving blue-ribbon status.
"At the athletic department, we are so proud of you, of what you've done, what you've accomplished," Henrickson said, on stage. "I'm here to congratulate you, tell you how proud we are, and how proud we are to have one of your alumni in our program … and (share) how much pride she takes in being successful in school."
Amid a steady stream of cheers, Henrickson introduced the assembly's "rock star": the redshirt freshman who started her education just like the 240 children listening intently from the floor, as Woodlawn Riverhawks.
Relatively speaking, the doors jambs may be lower now, the hoops may be closer, and everyone in the building may be shorter. But Jackson's focus hasn't changed a bit.
"Focus on school," Jackson told them. "Just keep up the hard work. I'm very proud of you. And Rock Chalk Jayhawk!"
And with that, Jackson greeted students, posed for pictures and shared stories with teachers still around from the old days. More words of encouragement. Lots of smiles.
"I want to go to the library," she said, and a few moments later Jackson and her coach would be heading down the hallway.
Copyright 2018 The Lawrence Journal-World. All rights reserved. This material may not be published, broadcast, rewritten or redistributed. We strive to uphold our values for every story published.