Photo Gallery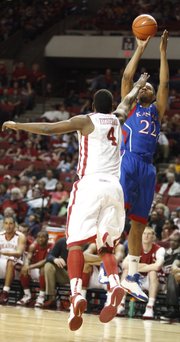 KU vs. Oklahoma
Press Conferences & Post-Game Interviews
KU coach Bill Self
Kansas coach Bill Self talks to reporters following the Jayhawks' 82-70 victory over Oklahoma on Feb. 26, 2011.
Press Conferences & Post-Game Interviews
KU players Tyrel Reed and Marcus Morris
KU players Tyrel Reed and Marcus Morris talk to reporters following the Jayhawks' 82-70 victory over Oklahoma on Feb. 26, 2011.
Norman, Okla. — A second-half injury to Elijah Johnson, coupled with Tyshawn Taylor's suspension, left Kansas University's basketball team thin at point guard in the second half of Saturday's 82-70 victory over Oklahoma.
Freshman Josh Selby played a whopping 16 minutes the second half, scoring two points with an assist and turnover.
"I was just playing my game," said Selby, who finished with five points, three rebounds, two assists and a turnover in 27 minutes.
"Coach needed a point guard. I hadn't played point guard all year, but I had to step up."
Selby, who exited Noble Center wearing a boot on his injured right foot (stress reaction), has been hobbled the past several weeks.
"It was frustrating at the beginning. You have to deal with it," Selby said.
Taylor update
Coach Bill Self was asked if Tyshawn Taylor would play in Wednesday's game against Texas A&M.;
"I don't know yet. We'll revisit it when we get back this week," Self said. Taylor has missed the past two games after violating team rules.
Aldrich on hand
Former Kansas University center Cole Aldrich of the Oklahoma City Thunder attended the game. He sat a few rows behind KU's bench.
The 6-foot-11, 245-pounder returned from Orlando, Fla., early Saturday morning. The Thunder fell to Dwight Howard and the Magic, 111-88.
Aldrich, who has averaged 1.0 points and 2.6 rebounds in limited duty this season, grabbed five rebounds in 15 minutes versus the Magic.
"It's more minutes than I've had recently. It was a tough matchup to say the least," Aldrich said of guarding the massive Howard, who also was hounded by KU grad/Thunder veteran Nick Collison.
"I also got to play against the Clippers last week (against former Oklahoma phenom Blake Griffin). Those are two of the most athletic players in the league," added Aldrich, halftime guest on the Jayhawk radio broadcast of the game.
Aldrich — he also attended KU's win over Colorado last Saturday in Allen Fieldhouse — was impressed with a KU offense that hit 17 of its first 22 shots versus OU and finished the first half 17-of-24 en route to a 43-33 lead at the break.
"We're always good offensively," Aldrich said of the Jayhawks. "But everybody knows coach Self harps on defense. Watching two games ... it's such a different game between NBA and college. It's still a huge defensive game in the NBA."
Aldrich fondly recalled KU's last trip to Norman — an 87-78 victory on Feb. 23, 2009.
"I remember Sherron (Collins) and Tyshawn had great games, and I had 20 rebounds (and 15 points) that day. I have fond memories of this building," Aldrich said.
Taylor had 26 points and Collins 26, including 22 in the second half of that game. OU's Griffin didn't play that day because of a concussion.
Collison also attended Saturday's game, but went undetected by the media. He sat near KU's bench.
This, that
There appeared to be at least 2,000 KU fans in the announced crowd of 8,773. ... Perry Ellis, a junior forward from Wichita Heights who is considering KU and others, attended.
Beware of the fog
The KU team spent the night in Norman because of fog in Topeka and Kansas City. KU flew charter. The Jayhawks were to return this morning in time for their annual Wilt Chamberlain Special Olympics Clinic.
Copyright 2018 The Lawrence Journal-World. All rights reserved. This material may not be published, broadcast, rewritten or redistributed. We strive to uphold our values for every story published.