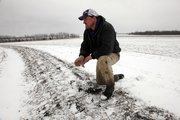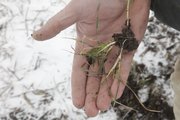 Western Kansas is known for being home to the state's most bountiful wheat yields. But that might not be the case this year.
With western Kansas experiencing winter drought conditions it hasn't seen since the late 1980s, the wheat harvest isn't expected to be a bumper one.
But closer to home, a warm fall and lots of winter moisture means the wheat crop is looking healthy, local farmers said.
"We'll be in good shape if we don't get another cold snap," said Mark Wulfkuhle. "In our area, wheat really looks good."
Wulfkuhle, who farms in western Douglas County and raises beef cattle, said wheat usually makes up about 10 to 20 percent of the crops he grows in his fields.
Wheat, the staple for western Kansas, isn't a primary crop for farmers in Douglas County. They tend to stick to corn and soybeans. But wheat is grown when farmers want to rotate in new crops or for grazing.
Bill Wood, director of Douglas County's K-State Research and Extension office, said that a dry, warm fall had farmers planting more wheat this year than in the recent past.
"The previous two years we had such wet falls that it didn't allow us to get the wheat planted," he said.
This was the first time in three years that Luke Ulrich planted a wheat crop, and it's still a small percentage of the 1,500 acres that his family farms in land in Douglas, Franklin and Shawnee counties.
For wheat, yields are typically around 30 or 40 bushels per acre in Douglas County. Out in western Kansas, the yields can average 55 to 60 bushels per acre.
"Those guys are far better suited for it," Ulrich said. "A lot of times it is pretty wet here and we can't plant wheat if wanted to."
But this year, western Kansas is suffering from too little moisture. In many fields, the wheat hasn't started growing. And typically when wheat doesn't come up after the first of the year, farmers are looking at a 40 to 60 percent reduction in yield, said Jim Shroyer, a wheat specialist for the K-State Research and Extension office.
With more rain, the crop could still turn around.
"I wouldn't count it out just yet," Shroyer said.
How a poor harvest in western Kansas would influence prices for wheat grown in Douglas County is still unclear, farmers said.
With Russia and South America driving prices around the world, western Kansas' harvest might not have much of an effect, local farmer Lloyd Wulfkuhle said.
"It's such a world market," said Wulfkuhle, who farms near Stull and planted about 300 acres of wheat this year.
While the "wheat looks pretty decent" in Ulrich's fields, the crop still has a long way to go before being harvested at the end of June.
"With these warm days it's going to go ahead and break dormancy and start growing. That's the toughest time. With cold, wet conditions that is where you get issues with mildew and fungus," Ulrich said.
Copyright 2018 The Lawrence Journal-World. All rights reserved. This material may not be published, broadcast, rewritten or redistributed. We strive to uphold our values for every story published.