Video game and comic book fans alike love crossovers. Whether it's the Infinity Gauntlet, Heroes on the Move or the upcoming Street Fighter x Tekken, there's just something so intriguing about merging two worlds into one. Marvel vs. Capcom was the first to merge one of the most robust comic book worlds with one of the most robust video game worlds. With each new iteration the insanely large combos and a vast array of characters increase at an exponential rate. While fan service is the primary focus in MvC3, Capcom has remained faithful to creating a solid fighter that manages the complicated balance of now more than 30 fighters.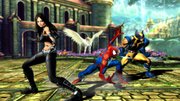 If you've never played a Marvel vs. Capcom title before, they are surprisingly accessible while integrating huge combos and complicated gameplay mechanics for the most hardcore fighter fans. It has been more than a decade since the previous game and while some of the least mainstream Marvel and Capcom characters have been thrown into the mix, MvC3 still has the core appeal it always did. I also have to mention that the graphics are amazing –– the cartoon feel of previous titles has been transformed into the cel-shaded look of Street Fighter IV and it couldn't have been better suited.

Some of the most basic moves in the game will count for three or more hits, so newbies can smile with pride as they button mash their way into a high scoring combo. The fighter classes are still varied enough that you don't have to fear an endless onslaught of fireballs if Ryu is your foe or barrages of kicks from Chun-Li because each character has a way to counter these tactics. As you become more advanced you can even work on air combos and be able to cancel out combos when caught off guard. Teams now consist of three players and you can switch between them at will, allowing you to create teams appropriate for all occasions. It all comes pretty naturally provided that you take the time to learn the mechanics you need to succeed, especially before taking everything online.
There are only a handful of modes in MvC3, but thankfully they all work towards the same goal: making you a better player. If you are playing offline by yourself, you have the choice between arcade (story) mode, training mode and mission mode. Ironically, mission mode is intended to train you in each character's special moves and combos –– 10 missions per character and by the end you will be pulling off combos that impress.
Don't be discouraged if you can't make it past the first 3 or 4 missions, because the combos in later missions require a ton of time and patience to pull off. By mission 10 you will have a laundry list of moves in one massive sequence that are anything but easy to replicate. I'd recommend tackling the missions at your own pace and utilizing them before taking out a trio of players, but you don't have to cycle through every character at once. After you have thoroughly explored some of the basic moves and combos of your character(s), it's time to take them over to training mode and put everything into practice.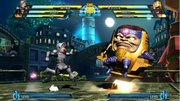 It may be easy enough to pull off that 10-hit air combo in an isolated sequence but now it's time to try it in the heat of battle. The second player will remain motionless unless you have a second player pick up and play with you, but with unlimited health and energy it's a great sparring room before going into a real fight. Once you feel comfortable fighting an opponent, you can enter arcade mode and take on the computer. There are four stages, each with a team of three fighters, which you will need to overcome before getting to the final boss battle. Like most fighting games, the story mode isn't that long, but given that your eventual goal is to complete the game with every fighter it can definitely be a chore to fully complete. For anyone who played Street Fighter IV's Seth and found him to be the cheapest character in any fighting game, Galactus dethrones him. Whether Capcom was too lazy to make a real boss or they felt an uphill battle was the best choice for a final boss, Galactus is a brutal and unfair end to the arcade mode. Then again, once you get to know his patterns and become better at unleashing your biggest and strongest combos he definitely becomes more manageable.
While playing a fighter by yourself is all well and good, the big draw to games like this are the competitive modes. MvC3 provides both offline and online multiplayer for those of you hoping to strut your stuff. I personally prefer playing with people in the room, especially if you can get three or four of you together. Offline multiplayer sessions in MvC3 seem to be more social than the online modes, oddly enough. Your friends may help you out in learning moves or tactics, they will taunt you when you screw up and you can see their reaction when they win/lose. Online modes are usually more sociable, but my experience was that the current core online players are all business.
First of all, most of the people you will play online will be extremely good and extremely cheap. Most players I encountered in a one-on-one room chose the same characters over and over and used the same techniques to mop the floor with me. The community doesn't appear to be very nice either –– most players will never talk to you, even when you're hanging out in an eight-person lobby, and hosts will close rooms and end games at will just to prevent fighting a match. I couldn't believe there was no way to view the two players fighting each other while you were waiting for your chance to play, but that seems to be the case. I tried to join quick matches and ranked matches for nearly a half an hour, but all I seemed to get were messages that players quit or that I failed to join. The best way I found to play online was to establish your own room and wait for someone to join. These online gripes may be exactly what some of the more expert players are looking for, but I was hoping for a social experience much like when my friends and I get together and I did not find that.
When dealing with a fighter, especially one as intense and complicated as MvC3, it's important to have tight, responsive controls. This is where I feel the modern day controllers are partially at fault. When I first tried it out with a basic controller, I was finding that the responses to my moves weren't always correct. Seeing as how many moves have similar joystick rotations, the game frequently reads a move incorrectly, breaking some of the biggest combos. In addition, there was far too much focus on combos that require multiple stances in a sequence this time around. By this I mean that you may be required to start a combo kneeling down, continue it standing, pull off a special move, knock them in the air and continue on. This is fine for the "insane combos" that made you an arcade idol in the past, but most of the basic combos involve these various stances to some extent. This makes the difference between a button-mashing beginner and a combo knowledgeable advanced player a much bigger jump. It feels like a person such as me, who has played all of these titles and has been able to be a decent player in the past, gets stuck between trying to combo and not being able to pull it off. At that point I'm more worried about what my hands are doing than the match in front of me. An arcade stick can vastly improve the game's ability to judge your moves, but the special moves and combos are still just a bit too similar to one another this time around.
With the fighting genre making a clear comeback, it was awesome to see Marvel vs. Capcom 3 getting a release. While the online mode leaves much to be desired (although I can put the community just as much to blame as the developer), remember that this genre is a ton of fun offline as well. Capcom has taken a varied and balanced cast of characters and created an experience that fighter fans can appreciate. Marvel vs. Capcom is back and this third iteration proves to be the most accessible of the series, here's hoping that the simpler interface doesn't turn off the hardcore players too much.
Overall: 8.0
Copyright 2018 The Lawrence Journal-World. All rights reserved. This material may not be published, broadcast, rewritten or redistributed. We strive to uphold our values for every story published.