Related document

KU-Missouri women's box score ( .PDF )
Photo Gallery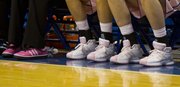 KU women vs. Missouri
Shots weren't falling for Kansas University guard Monica Engelman.
But even on a frustrating night from the field, an important piece of advice kept Engelman focused.
"I've been taught, and my coaches have instilled in me, that good shooters always keep shooting," Engelman said. "Even though I was 1-for-8 or whatever I was, you have to believe in yourself and be there for your teammates to knock something down."
With KU needing a basket to tie late, coach Bonnie Henrickson didn't call Engelman's number. But after the designed play broke down, Engelman found the ball in her hands as the game clock wound down and didn't hesitate.
On a hard drive to the basket, Engelman banked in a contested runner with 1.9 seconds left in regulation to force overtime, and the Jayhawks — bolstered by a rocking crowd of 5,225 — pulled ahead for a 75-70 overtime victory over Missouri on Saturday night at Allen Fieldhouse.
"I thought their resiliency, their togetherness and their toughness they showed to win one tonight was pretty impressive," Henrickson said.
Engelman scored six points of her 11 points in OT, Keena Mays pulled down two crucial offensive rebounds, and Carolyn Davis – who poured in a career-high 34 points – scored five in OT, including three from the line to clinch the outcome.
Angel Goodrich tallied 14 points and nine assists, showed good vision in the half-court and often pushed the tempo in transition.
"I think we got strength from the crowd," Engelman said of the raucous crowd, most sporting pink for the Jayhawks For A Cure "Pink Zone" game. "But I think we got strength from (our team's) core as well."
Neither team could do much to distance itself in the 33-33 first half, but KU didn't help itself any by committing nine turnovers and allowing eight offensive rebounds.
"They're a tough team," Davis said. "They don't go away. They're going to fight all the way to the end, and we knew that coming in."
Behind Davis' soft touch and Goodrich's passing, KU led by as many as seven points after the break, but stumbled a bit down the stretch, allowing the Tigers – led by 23 points from RaeShara Brown – to pull ahead, 62-60, with less than a minute to play.
But with the clock winding down and the designed play broken, Engelman came up with the biggest shot of the night to lift KU (17-9 overall, 4-8 Big 12) to a needed victory.
"As soon as it (went in) I was so excited," Davis said. "Again, she hits another big shot for us."
Copyright 2017 The Lawrence Journal-World. All rights reserved. This material may not be published, broadcast, rewritten or redistributed. We strive to uphold our values for every story published.