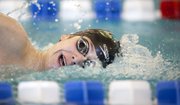 Topeka — This season, Free State High senior Nolan Frank found himself spending more time away from the pool than he could ever remember.
The looming decision about college started to set in for Frank, a longtime pianist who's aspiring to study music in school, and led to a number of missed practices so he could travel and set up auditions at various colleges. As a result, Frank hadn't felt quite like himself in the pool for months.
He felt just fine on Friday.
In the preliminary round of the boys swimming and diving state championships at Hummer Park, a beaming Frank emerged from the water to the sweet sound of cheering teammates after he set a FSHS record in the 100 backstroke.
"It feels awesome, because I've been chasing that record since freshman year," said Frank, whose time of 53.25 also has him as the second seed heading into the finals, set for 11 a.m. today.
"I wasn't quite expecting it, but it feels good."
The top eight finishers from each preliminary event will race in the championship heats today. The top 16 will contribute to their teams' scores at state.
Aside from Frank's second-place finish, FSHS qualified for the finals in five other events, advanced several others to the consolation/consideration heats, and improved upon their existing times in nearly every event.
"That's where a team really can win," FSHS coach Annette McDonald said.
The Firebirds' 200 medley relay team (Frank, Logan Sloan, Ben Sloan and Tony Libeer) placed in seventh at 1:40.89 and their 200 freestyle relay team (Libeer, Connor Munk, Chris Helt and Logan Sloan) finished in eighth at 1:33.09 — also a FSHS record.
Sophomore Ben Sloan placed fourth in the 100 butterfly (53.00) and took seventh in the 200 individual medley (2:00.39), and freshman Canaan Campbell finished sixth in the 500 freestyle (4:49.61), and 11th in the 200 freestyle.
The FSHS 400 freestyle relay team (Ben Sloan, Frank, Campbell and Ethan Fisher) placed ninth (3:22.52). Fisher took 15th in the 200 freestyle (1:50.41) and 13th in the 500 freestyle (5:00.29).
"I'm really excited," Annette McDonald said. "The guys all did so well today."
For Annette's husband, Lawrence High coach Kent McDonald, the day didn't go quite as swimmingly.
The Lions' 200 medley team (Adam Edmonds, Eric Long, Nathan Evers, Dylan Orth) finished in 19th place, though the 400 freestyle team (Evers, Carrick Finnegan, Orth and Zach Andregg) still qualified with a 15th-place finish (1:35.83).
"We've got more room to get better than we do to get worse," Kent McDonald said, citing LHS' 200 freestyle relay team, which can finish as high as ninth.
Andregg enjoyed a nice day in his two individual events, qualifying for both championship heats after seventh-place finishes in the 500 freestyle (4:49.74) and the 200 freestyle (1:45.93).
"This year was a lot faster than the year before," Andregg said. "And definitely faster than at (Sunflower League).
"Finals are going to be tight."
Copyright 2018 The Lawrence Journal-World. All rights reserved. This material may not be published, broadcast, rewritten or redistributed. We strive to uphold our values for every story published.