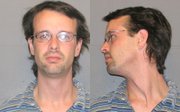 A Douglas County judge Thursday sentenced a 31-year-old Lawrence man to two years on probation for serving as a lookout for a 2010 robbery at Walmart, 3300 Iowa.
If Nathan T. Moses is found to violate terms of his probation, he faces a prison sentence of two years and three months, court personnel said.
Moses in November pleaded no contest to conspiracy to commit robbery. He is one of five accomplices accused of serving as lookouts for William O. Patterson and Lonnie S. Schaefer.
Schaefer, 23, in September pleaded no contest to robbery, conspiracy to commit robbery, conspiracy to commit aggravated arson and distribution of marijuana. Prosecutors accused him of driving co-defendant William O. Patterson, 19, to the scene on Dec. 13, 2010. Patterson earlier this year pleaded guilty and was sentenced to nearly six years in prison for pointing a plastic BB gun at a Walmart clerk in the robbery and taking more than $7,000.
Schaefer and Patterson also were accused of developing a scheme to have the group throw a bottle full of flammable liquid onto the roof of McDonald's, 1309 W. Sixth St., to create a diversion from the robbery. The bottle only slightly burned the roof.
District Judge Michael Malone has handled all the cases associated with the robbery.
Copyright 2018 The Lawrence Journal-World. All rights reserved. This material may not be published, broadcast, rewritten or redistributed. We strive to uphold our values for every story published.