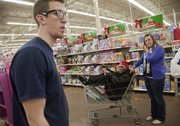 Tyshawn Taylor knew he had a lot in common with the 2 1⁄2 year-old girl on his shopping list Thursday night.
"This is something that's really important to me," KU's senior point guard said, "because I've always been one of those families that got supported by things like this growing up."
For the 15th year in a row, the Kansas basketball team shopped for needy families at Wal-Mart in south Lawrence.
The Jayhawks, armed with shopping lists, bought items for 65 people from 15 different families with money raised by KU's Roundball Club, coach Bill Self's Assists Foundation and private donors.
Taylor, who grew up in Hoboken, N.J. and Clearwater, Fla., said there were plenty of Christmases where his mother, Jeanell, leaned on assistance from the Boys and Girls Club and other sponsors for toys.
"She struggled," Taylor said, "and it's things like this that help single mothers and parents that are struggling enjoy Christmas. That's why I really take pride in something like this, because I come from a similar situation."
Jeanell was happy to assist Tyshawn on Thursday, standing by his side while also helping his teammates pick out items from their lists. She's volunteered her time at the event each of the three years she's lived in Lawrence.
The Jayhawks walked through the aisles for over an hour to complete their shopping.
Sophomore guard Niko Roberts spent some of his time in the clothes section, picking out size-14 socks for a 16-year-old boy.
When he was younger, Roberts used to help the team shop when his father, Norm, was an assistant coach on Self's staff.
"I told my mom I was doing it today, and she always gets excited when she hears that we're doing this," Roberts said, "because she just thinks this is such a great experience."
Niko's mother, Pascale, also helped with the holiday shopping then.
On Thursday, Niko's cart had snow boots and all four "Pirates of the Caribbean" DVDs.
"I'm glad that it means something to them," Roberts said. "I feel like it's a little more personal than just sending somebody some money."
KU sophomore forward Justin Wesley was surprised to see that his list included Thomas the Train.
"I had a big Thomas train when I was little, too," Wesley said, already with two trains in his cart. "I probably took that thing everywhere I went."
The Jayhawks were helped by event organizers Roger and Linda Morningstar.
Self wasn't in attendance, as he and assistant coach Danny Manning were in Texas watching signee Zach Peters play.
Director of basketball operations Barry Hinson, who made sure all the rookies shopped with veterans, said he is always impressed by the players' enthusiasm for the event.
"I saw them smile big after Ohio State, but it wasn't near as big as the smiles that were on their faces tonight," Hinson said. "Two things about that: It shows you what good kids we have, and it shows you what good hearts they have."
Reed in town to sign book
Former Kansas guard Tyrel Reed will be signing his new book, "Reed All About It: Driven to be a Jayhawk," from noon to 2 p.m. today at the Dillon's store located at 3000 W. 6th St. in Lawrence.
Reed also will be signing at Crown Automotive, 3400 S. Iowa St., from 10:30 a.m. to 12:30 p.m. Saturday.
Copyright 2018 The Lawrence Journal-World. All rights reserved. This material may not be published, broadcast, rewritten or redistributed. We strive to uphold our values for every story published.