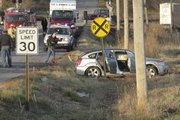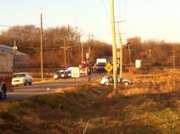 Two Lawrence men were injured in a single-vehicle crash Thursday morning just east of Lawrence.
Sgt. Steve Lewis, a Douglas County Sheriff's spokesman, said Melissa White, 35, of Grizzly Flats, Calif., lost control at the railroad tracks just east of Lawrence on North 1500 Road, which is an extension of 15th Street. The rented Dodge Caliber car struck a utility pole in the 1600 block of North 1500 Road.
White was not injured. Two passengers, Jeremy Gates, 34, and Patrick Bray, 17, both of Lawrence, were injured, Lewis said.
Medics took Bray, who was ejected from the car, by ground ambulance to Kansas University Hospital in Kansas City, Kan., and Gates was taken by ground ambulance to Stormont-Vail Regional Health Center, where he was listed in fair condition Thursday, a spokeswoman said. Information about Bray's condition was not available.
The injuries to both men were not believed to be life threatening, Lewis said.
White's mother, Julie White, 55, of Lawrence, who was the front-seat passenger, was not taken to the hospital.
Officers believe excessive speed contributed to the crash, which occurred about 7:50 a.m., Lewis said. No tickets were issued Thursday morning to the driver, Melissa White, but Lewis said officers would forward a report to prosecutors because they believed her license was revoked. She also did not provide a proof of insurance, he said.
Copyright 2018 The Lawrence Journal-World. All rights reserved. This material may not be published, broadcast, rewritten or redistributed. We strive to uphold our values for every story published.