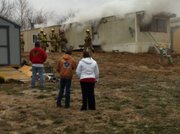 No one was injured in a fire this morning at a home in the Brookwood Mobile Home Park, 1908 E. 19th St., but a dog died of smoke inhalation.
Lawrence Douglas County Fire Medical responded to a call at 10:19 a.m. Crews found a single mobile home with heavy smoke seeping out of several openings. The fire was extinguished at 10:41 a.m.
The trailer was not occupied during the blaze, said Division Chief Eve Tolefree said in a news release. The Red Cross is assisting the displaced residents, and fire investigators work to determine the cause.
Copyright 2018 The Lawrence Journal-World. All rights reserved. This material may not be published, broadcast, rewritten or redistributed. We strive to uphold our values for every story published.