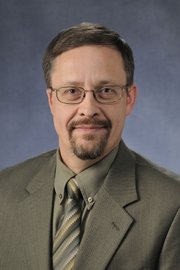 Kansas University has selected a political science professor and the director of its Center for Global and International Studies as the school's next dean of graduate studies after an internal search.
Thomas W. Heilke will begin his new position on Jan. 8. He previously worked as associate dean of international programs from 2003 to 2007 in KU's former Graduate School and Office of International Programs.
Heilke said Thursday he hoped to help make the office a place that was a repository for good data on the state of graduate education, implemented the university's strategic goals on increasing the level of doctoral education and increasing the funding available for graduate education, from both grants and private donors.
Funding is one of the biggest challenges facing graduate education at KU, Heilke said. The faculty, facilities and other support are there, he said, but in many cases, money — specifically the lack of it — hampers the growth of graduate studies.
He said he hoped to show private donors how good graduate education supported undergraduates, too.
"That's not smoke and mirrors," Heilke said. "That's actually true."
Graduate students frequently connect with undergraduates as teaching assistants, and they support the research mission of the university, an area in which undergraduates are becoming more and more involved, Heilke said.
The office of graduate studies, Heilke said, serves both a helping and a regulatory role in the more than 80 different areas in which KU offers master's and doctoral degrees.
In the position, Heilke will report to Steve Warren, vice chancellor for research and graduate studies. He will make $175,000 in the new role.
"Thomas brings considerable administrative and academic experience to the position of dean," Warren said in a written statement. "He is well-equipped to help advance the scope, quality and national reputation of KU graduate education, and I look forward to working with him."
Heilke succeeds Sara Rosen, who was named as senior vice provost for academic affairs in July.
Copyright 2018 The Lawrence Journal-World. All rights reserved. This material may not be published, broadcast, rewritten or redistributed. We strive to uphold our values for every story published.