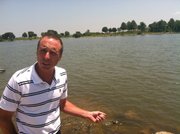 Topeka — Spending related to recreation on Perry, Milford and Tuttle Creek lakes totals more than $45.3 million per year, according to a study released Thursday.
Related document

Kansas Reservoir Assessment ( .PDF )
"The study sheds light on how important all of our state's water resources are to our economy and to the people and natural resources they support," said Kansas Department of Wildlife, Parks and Tourism Secretary Robin Jennison.
The report, prepared for the Kansas Water Office and U.S. Army Corps of Engineers, also said 80 percent to 90 percent of the visitors to the reservoirs were from outside the region.
"During these trying economic times, this is great news for the state of Kansas," said KWO Director Tracy Streeter.
And the study showed that releases from the three reservoirs to help navigation on the Missouri River adversely impacted recreational use. This has long been a sore point with Kansas officials who have argued that drawing down the lakes to assist barges and other commercial watercraft on the Missouri River has little to no effect on streamflow, while it greatly hurts recreational use of the lakes.
The annual visitor spending at Perry was $15.8 million; Milford, $17.1 million and Tuttle Creek, $12.4 million.
An average of 676,000 people visit Perry Lake each year, mostly for boating, fishing and sightseeing.
The lakes are also important water supplies for municipal and industrial clients with a total water supply value of approximately $294 million, according to the study.
The study also said that low lake conditions caused by navigation releases reduced the number of quality recreation days from three days at Tuttle Creek to seven days at Perry and Milford.
Navigation releases also reduced the number of days for sustaining waterfowl habitat and hunter access by 18 days at Tuttle Creek, 20 days at Milford, and 23 days at Perry.
"Impacts to these uses translate to an economic loss to the state and the local economies," the study concluded.
The study said changes could be made to reduce the impacts of the navigation releases. For instance, boat ramps could be extended or releases could be prohibited prior to and during high-profile events on the lakes.
Copyright 2018 The Lawrence Journal-World. All rights reserved. This material may not be published, broadcast, rewritten or redistributed. We strive to uphold our values for every story published.