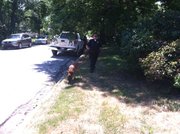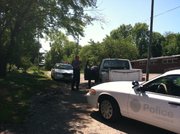 After a search involving several officers and the Douglas County Sheriff's K-9 unit near Lawrence Memorial Hospital, Lawrence police Thursday afternoon arrested a 32-year-old Ozawkie man accused of stealing a construction worker's vehicle.
Sgt. Matt Sarna, a Lawrence police spokesman, said that the suspect just before noon stole an unoccupied 1985 white Ford pickup truck from a worker near Sixth and Maine streets. The construction worker, a 38-year-old Topeka man, said he observed the suspect get into the truck and drive north. The worker flagged down a passing motorist who helped him follow the white truck.
The victim told an officer patrolling in the area that the suspect had fled the area on foot to the east from the 400 block of Arkansas Street, where the suspect had pulled the truck over, Sarna said.
Several officers, including a sheriff's deputy and dog with the sheriff's K-9 unit, were seen canvassing the area for the suspect and possible evidence. Officers located a shirt they believed to belong to the suspect in a parking lot near the Reed Medical Group building, 404 Maine. Sarna said police about 1 p.m. located the suspect walking on Michigan Street north of the Interstate 70 bridge.
No injuries were reported, and the suspect was taken to the Douglas County Jail on one count of possession of stolen property. Douglas County prosecutors will make a decision about filing formal charges. The Journal-World generally does not identify suspects unless they are formally charged.
Copyright 2018 The Lawrence Journal-World. All rights reserved. This material may not be published, broadcast, rewritten or redistributed. We strive to uphold our values for every story published.