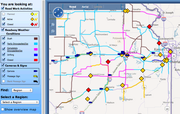 Topeka — Despite record-setting heat and humidity outdoors, it will look and feel much cooler on a Kansas Department of Transportation website.
The agency is testing its 511 Traveler Information Map on Friday with simulated winter driving conditions across the state.
The test is designed to see how the system responds to information requests when the entire state highway system is covered with snow and ice. Roads will be represented on the map with colors to depict hazardous conditions.
KDOT staff will use special software to bombard the website with thousands of requests for condition reports to see if the system slows or comes to a stop.
The process will be repeated on Aug. 12, 19 and 26.
KDOT expects actual road conditions to be normal during the test.
Copyright 2018 The Associated Press. All rights reserved. This material may not be published, broadcast, rewritten or redistributed. We strive to uphold our values for every story published.