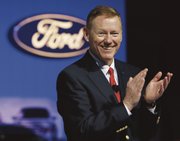 Emporia — Ford Motor Co. CEO Alan Mulally has won a spot in the Kansas Business Hall of Fame at Emporia State University.
Mulally is a graduate of Kansas University and former top executive at Boeing. He was chosen for the Hall of Fame for his work in stabilizing Ford financially.
Emporia State says the other 2011 inductee is the late Joseph G. McCoy, who developed the Kansas town of Abilene as a principal shipping point for Texas cattle coming up the Chisholm Trail.
Although Emporia State is home to the Business Hall of Fame, an induction ceremony June 29 will be held at Butler Community College in El Dorado. Gov. Sam Brownback is expected to be among the guests.
Copyright 2018 The Associated Press. All rights reserved. This material may not be published, broadcast, rewritten or redistributed. We strive to uphold our values for every story published.