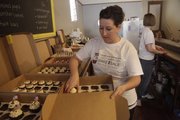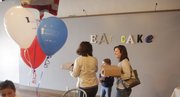 If Cami SanRomani is any indication, sweet dreams are made of this: Hard work, sacrifice and lots and lots of buttercream.
In the past two years, SanRomani, 27, has gone from baking a few dozen cupcakes in her kitchen for friends to catering for a handful of KU sports teams and opening a storefront shop, Cami's Cake Co., in downtown Eudora.
"The business is booming," she says with an amazed sort of giggle. "I never thought in a small town that we would get the business that we're getting, but it's really not that far of a drive for people in Lawrence and for the people in Kansas City."
Cami's Cake Co. grew from a conversation SanRomani had with her husband (then-boyfriend), Dustin, three years ago. On a walk while down in the dumps over work, she began to question her path in life.
"I was like, 'What are you passionate about?'" says Dustin SanRomani. "And she had always loved all those shows on Food Network and always talked about cakes. And she said she always wanted to do that. I was like, 'Well, you might as well try.'"
She took pastry classes for a year within the culinary education program at Johnson County Community College, and once she felt ready, she started off baking for friends and contacts she made through Dustin's job as a second-grade teacher at Eudora Elementary.
"He's been my No. 1 advocate, by far," she says of Dustin, whom she married in 2009. "He worked probably more than three jobs a lot of time, just to pay for the flour and sugar and the time that I wasn't working. It's 100 percent him: he encouraged me to pursue it. He funded it. He's everything."
After a year of making cupcakes here and there, business ramped up exponentially when Cami's Cake Co. set up a cupcake table at the birthday party of First Management honcho Doug Compton. Thanks to the contacts and exposure she got there, she was suddenly filling orders for various Kansas University sports teams and events, making dreams come true for a huge Jayhawks fan who studied sports marketing at KU.
SanRomani launched her storefront operation on Valentine's Day weekend, using a business model she'll hope will make it a "treat" to have a Cami's Cake item and keep her from burning out. So, just like in her home-baking days, the majority of the bakery's business comes from doing cakes and cupcake displays for weddings and parties, but her storefront is open at least once a month for walk-ins.
"What we're trying to do is be open during holidays. We were open Valentine's Day, we were open for St. Patrick's Day, we're going to be open for Easter," she says. "If someone comes in for a wedding cake tasting, we make extras and then Facebook is really my No. 1 tool. I post on Facebook, 'Hey, I have eight dozen red velvet today. I'll be at the shop from 10 to 2, come in.' And I sell probably 100 dozen cupcakes a week just like that. Just by Facebook."
To wit, she hasn't paid for any advertising, preferring to use Facebook and word-of-mouth to keep sweets lovers informed on the happenings at her little shop, which is set up in a beautiful old building at 724 Main St.
"I was a little nervous about the store front, because that's getting into uncharted territory," says SanRomani's sister, Alissa Blake, who does the shop's books and is paid in cupcakes by Cami herself. "Eudora's just been a great location for her. That community is so supportive. They came out in droves when she opened up on Valentine's Day. We had no idea that it would be like that."
Standing in their shop, the SanRomanis seems more than a bit sugar-shocked by the support and the realness of it all, even as they spend a morning unloading real-as-can-be 100-pound sacks of flour and powdered sugar.
"It was tough for a while, working so many jobs and trying financially to help her get started," says Dustin, the official hauler of flour and sugar, when he's not in teacher mode. "I think the hard work that we're putting in now, I think will pay off in the future. That's kind of what keeps me going, and as long as I can keep her pursuing her dream, that's what I really care about."
Copyright 2018 The Lawrence Journal-World. All rights reserved. This material may not be published, broadcast, rewritten or redistributed. We strive to uphold our values for every story published.