With a baby on the way, Stacey Ramirez pulled the family's infant car seat out of the attic recently.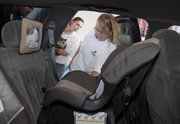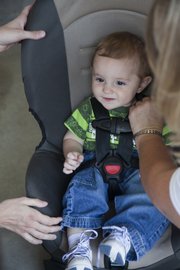 Check it out
Douglas County residents can set up a free appointment for a child safety seat inspection by calling Lawrence Memorial Hospital's ConnectCare line at 749-5800. The inspections are provided by the Douglas County SAFE KIDS Coalition.
In the few years that the seat had been in storage, Ramirez and her husband had forgotten just how it fit in their vehicles. So, with a two-week due date looming, Ramirez was among those at Lawrence Memorial Hospital's child passenger safety station making sure the infant car seat and the one for her now 3-year-old were installed properly.
"I think child safety should be the most important thing no matter what," Ramirez said.
Moments before Ramirez's car seat was inspected, officials from across the state spoke of the importance of making sure kids were strapped in and buckled up correctly. The event was held to kick off Child Passenger Safety Week.
Only about 77 percent of Kansas children are properly restrained, which is lower than the 88 percent of adults who use seat belts.
Each year, LMH staff and volunteers check to make sure 600 car seats are installed properly, and a staggering 80 percent of them are not. Typically the harness is too loose or the car seat itself is too loose.
"There are a 100,000 combinations of cars and car seats out there," said John Drees, who oversees the installation inspection program at LMH. "We want to educate you to make sure you know how to do it right."
With technology borrowed from NASA and NASCAR, child safety seats make a child the most protected person in the vehicle, Drees said.
In Douglas County, Drees said there have been eight accidents in the last 10 years in which adults were killed but children survived with minor or no injuries.
Salina mom Amanda Meier said her own mother, a certified technician, routinely checked the car seats of her 3- and 6-year-old children. It was a practice that Meier said saved her children's lives.
On a late morning in February this year, Meier was driving with her two children on a quiet residential street when she was hit by a driver who had run a red light while fleeing police.
Meier's Lincoln Navigator rolled over, landing back on its wheels, but facing the opposite direction. The force of the collision and roll was so strong that it knocked off all three of the passengers' shoes. The car was totaled.
"My kids walked away without a scratch. Properly installed car seats are the reason they are alive today," Meier said.
As children grow older and become more responsible for their own safety, they use seat belts less, said Cherie Sage, state director of Safe Kids Kansas. Surveys show that 97 percent of Kansas families use child safety seats for infants and toddlers, but only 76 percent use them for children 5 through 9.
"These children may not fully understand how booster seats and seat belts really protect them. And, they are more likely to complain or resist," Sage said. "So parents have to be vigilant and firm."
Meier said she is a tough parent when it comes to her children and seat belts. She won't start driving until everyone is buckled up and they can't disconnect for any reason.
"Be safe every time," Meier said. "There is no such thing as a trip you don't have to worry about."
Copyright 2018 The Lawrence Journal-World. All rights reserved. This material may not be published, broadcast, rewritten or redistributed. We strive to uphold our values for every story published.