When Nikki Prenevost stopped by the campus bookstore at Kansas University this semester, she saved about $50 on one costly interpersonal communications textbook.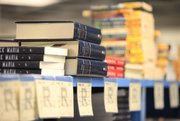 On the street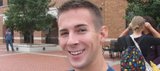 It's a lot more practical to rent them, but (as far as) condition you never get a good rented one. I always buy off of Amazon.
The Kansas City, Kan., freshman rented it — joining a growing trend that helps students curb quickly rising textbook costs. She compared prices online, before deciding that she probably had no desire to keep the book past this semester, and took the cheaper route.
"I think it is a great option" for students — or in her case, parents — looking to save on costs, she said.
Estella McCollum, director of the on-campus KU Bookstores, said students taking an average load of general education courses can expect to spend $400 to $500 per semester on textbooks.
For some content areas — like the sciences — the bill can be even higher.
McCollum said the KU Bookstores partnered with BookRenter.com to offer textbook rentals to students this year for the first time. That option can be 50 to 75 percent less than the book's published new price.
The store also debuted an online price comparison tool and a print-on-demand service that prints and binds collections of articles and a few textbooks in the store, reducing the store's costs for shipping and storing excess materials.
"We had to get really aggressive this summer. We did launch book rentals online, we launched the price comparison and print on demand all in one summer," she said. "I didn't hesitate to put our online competitors up on our website because it is a fair option for students and they need to understand that we recognize that."
The push for bookstores to offer rentals at reduced prices comes as students have flocked online looking for lower prices, where sites like Chegg, BookRenter, CampusBookRentals and Skoobit give students options at reduced prices.
McCollum said KU Bookstores chose to partner with BookRenter after that company featured options that let students see whether buying a book and selling it later would be better for them.
Also, other sites like Chegg have been aggressively marketing on campus, and denigrating the campus bookstores, McCollum said.
Andrew Storer, a KU journalism student, is a "Chegg Champion," meaning he earns a cash commission with Chegg for every student he refers to the site. He said he's encouraged many in his fraternity to use the online service.
With all the competition, other area bookstores — including the Jayhawk Bookstore and the University Book Shop — are offering textbook rentals on their own, for about half the book's listed price.
McCollum warned that not all rentals can be cost-effective for students — many books can be sold back at the end of the semester, and students should be aware that buying a used book and then selling it back to the bookstore ultimately might save them more money with some titles, she said.
Still, for students strapped for cash at the beginning of the semester, book rental offers an opportunity that was pretty hard to find before the trend came along.
And that's all fine for Luis Guillen, a junior from Lawrence, who's rented books in the past.
"It does seem a little bit easier," he said. "It's cheaper for one thing, which saves a little bit of money. It really just gets rid of the problem. You take it back, you don't have to have it on your hands, and you don't have to worry about it."
Copyright 2018 The Lawrence Journal-World. All rights reserved. This material may not be published, broadcast, rewritten or redistributed. We strive to uphold our values for every story published.