Leavenworth — Heavy thunderstorms in the area postponed Friday's contest between Free State High (1-0) and Leavenworth (0-1) until 2 p.m. this afternoon.
Photo Gallery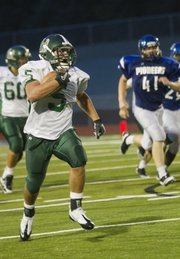 Free State football vs. Leavenworth
Free State defeated Leavenworth 55-7 after the end of the game was postponed until Saturday due to lightning.
The game was roughly midway through the second quarter with the Firebirds ahead, 27-7, when the inclement weather arrived, putting a temporary halt to what was shaping up as a rough start for the home team in its brand new Pioneer Stadium.
Typically, such delays are the lowlight of sporting events, though Leavenworth might beg to differ. The Pioneers will have extra time to figure out a way to contain Free State senior Preston Schenck.
Without their offense even taking the field, the Firebirds jumped in front quickly — in large part due to running back/linebacker Schenck.
After forcing a three-and-out on the Pioneers' first possession, Schenck fielded the punt and exploded up field, racing 44 yards to the end zone.
"He seemed to be in the right spot at the right time," coach Bob Lisher said.
He wasn't done there.
Free State forced a punt on the following Leavenworth possession, but fumbled it away on the return. The defense held firm, setting up a field goal attempt, which Schenck dove in and blocked, allowing quarterback/cornerback Dylan Perry to snag the loose ball and take it 91 yards for the score.
Another strong defensive effort and the ball was back in the hands of the Firebirds, who continually handed it off to Schenck. The senior had four rushes for 21 yards on the drive — the last of which was a one-yard touchdown run to put Free State ahead, 20-0.
After Pioneer quarterback Mark DaBeck fired a 63-yard touchdown pass to make the score 20-7, it was Schenck's turn again.
Schenck took the ensuing kickoff 94 yards, scampering down the Firebird sideline behind his blockers and into the end zone for his third touchdown of the half.
"I don't know if he was touched on both the punt return and the kick return, so that's pretty good blocking right there," Lisher said.
When the game resumes this afternoon, Shenck and his teammates will look to continue at Friday's torrid pace.
Copyright 2018 The Lawrence Journal-World. All rights reserved. This material may not be published, broadcast, rewritten or redistributed. We strive to uphold our values for every story published.