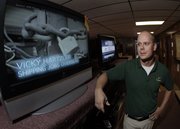 Sedalia, Mo. — Josh Vannoy has heard the complaint from customers bringing TVs to his repair shop. He's even heard it when delivering a brand new TV. The problem: the persistent static of this year's political advertisements.
To gripe about the onslaught of ads has become an American election tradition. But this year, people really have more to complain about.
Even while exploiting the Internet and new media to sway voters, political campaigns in the midterm election are relying heavily on old-fashioned TV ads, which are capable of reaching all parts of the electorate, whether it wants to be reached or not.
Ads in U.S. House and Senate races have risen 50 percent; in gubernatorial races, they've more than doubled, according to figures from the Wesleyan Media Project, which analyzes ads.
With so much money being spent, no part of the day or the dial is now exempt. At one typical television station in central Missouri, site of several fiercely contested races, the spots start with the 5 a.m. News at Sunrise, continue through The Price is Right in midmorning, The Ellen DeGeneres Show in the afternoon, and on through the late night talk shows.
The political ad blitz has been an economic stimulus for broadcasters. In October alone, campaign commercials are expected to account for 30 percent of local television stations' revenues — putting politics ahead of auto dealers, cell phone companies and all other sectors, according to the Television Bureau of Advertising, an industry trade group.
For television viewers, however, the barrage of ads accusing politicians of being out-of-touch, corrupt liars can get overwhelming.
When Vannoy recently delivered a television to the home of an elderly woman, she had one pressing question.
"She wanted to know where the mute button is," said Vannoy, 33, the general manager of A-1 Television Service of Sedalia. "She said, 'I just mute it when all the commercials come on, because I'm so sick of the negative ads."'
The central Missouri region where Vannoy works has been blanketed with ads for competitive races for the U.S. Senate, House, state offices and several ballot initiatives. Those spots display the very latest in the art of provoking outrage.
Democratic Senate candidate Robin Carnahan is "hurting seniors." Her Republican rival, Roy Blunt, is "sticking it to us." An ad targeting longtime Democratic Rep. Ike Skelton shows him uttering the bleeped-out phrase "stick it up your a--". Meanwhile, his Republican challenger, Vicky Hartzler, "walked away from our troops."
What has caused the ad surge?
Mostly, it is the large number of competitive races. As many as 100 House seats are in play as Republicans seek to win back a majority from Democrats. Add to that 37 Senate races plus 37 gubernatorial contests and the result is an advertising influx in heavily populated places such as California, Texas and Illinois that don't typically see many commercials in presidential elections because they lean solidly Democratic or Republican.
A bevy of hot issues — the federal health care overhaul, climate control legislation and state budget cuts — have ensured that business groups, environmentalists and public employee unions have a stake in the election.
Copyright 2018 The Associated Press. All rights reserved. This material may not be published, broadcast, rewritten or redistributed. We strive to uphold our values for every story published.