Buenos Aires, Argentina — Former President Nestor Kirchner, who steered Argentina out of crisis and political instability with a leftist populism that thrilled the poor and exasperated the wealthy, died suddenly of a heart attack Wednesday with his wife, President Cristina Fernandez, by his side.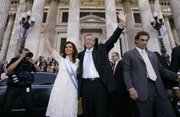 His death, at 60, abruptly ends a plan the couple had to keep succeeding each other and holding onto power for many years. With next year's elections looming, Fernandez will have to run for re-election without her closest adviser, the charismatic party leader who kept a tight lid on the country's unruly political scene.
Kirchner had a history of heart trouble, undergoing emergency surgery on his carotid artery in February and an angioplasty in September, but refused to slow down, campaigning daily to lay the political groundwork for another run at the presidency by him or his wife.
He suffered another heart attack early Wednesday and was pronounced dead at 9:15 a.m. after efforts to revive him failed, a presidential spokesman said.
The news shocked Argentines, who turned out by the thousands in Kirchner's honor, filling the Plaza de Mayo outside the presidential palace Wednesday night.
"He's someone who, for the first time in our democracy, turned his politics toward the workers and the people. That's why so many are here. The plaza shows that the people will support and deepen his model," said Juan Pablo Mazzieri, 39. Fernandez, he added, "has the capacity to go it alone with all the people's support."
But Kirchner's death leaves a gaping hole in Argentine politics.
While Fernandez is a powerful figure in her own right, Kirchner was seen as the heir to Argentine Gen. Juan Domingo Peron, the legendary strongman whose advocacy for workers brought generations into the middle class. Also like Peron, he tolerated few challengers, keeping in check the nation's labor unions, activist groups, governors and mayors — political players who move thousands of voters and whose allegiance is vital to maintaining public order.
One of Kirchner's latest campaign promises was to support a labor movement effort to require all large businesses to open their books to the unions and turn 10 percent of their profits over to the workers. Giving them half the profits would be better still, he suggested at a political rally.
"After Peron and Eva Peron, nobody has done so much for the workers as Nestor Kirchner," said Hugo Moyano, Argentina's most powerful union leader, who now doubles as a Peronist party leader in Buenos Aires province.
Kirchner was governor of a thinly populated southern state when he was pulled from relative obscurity to become a presidential candidate in 2003, a time when Argentina was struggling to emerge from a devastating economic crisis. He captured just 22 percent of a first-round vote despite the outgoing president's support, and took office after his rival then dropped out.
Within just a few years, he had re-established Argentina's all-powerful presidency and become a major figure in Latin American politics.
Then, at the height of his popularity in 2007, he stepped aside, enabling his wife to succeed him.
Copyright 2018 The Associated Press. All rights reserved. This material may not be published, broadcast, rewritten or redistributed. We strive to uphold our values for every story published.