John Pierson loved to show off his collection of bright red antique tractors at local parades.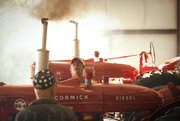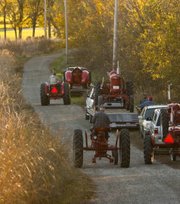 Wednesday morning, his tractors paraded one last time as members of Ottawa's Power of the Past Tractor Club loaded a fleet of flatbed trailers with nearly 30 of Pierson's tractors and headed down Douglas County Road 458 south of Lawrence.
The collection was bound for the International Harvester Collectors' national auction, where tractors and memorabilia will be sold Friday and Saturday at the Johnson County Fairgrounds in Gardner.
Pierson, a Lawrence businessman and farmer who died in 2008 at age 72, spent his 12 years in retirement restoring International Harvester tractors from the 1940s, 1950s and 1960s.
"He built a special shop for it. He'd come out every day and work on them," his daughter, Jessica Pierson, said.
Some of the tractors were standards — such as the Farmall M. Others, such as a sleek, red orchard tractor and a yellow-green picker, were rare finds that he searched all over the country for.
"He never told us how many there were. He was kind of cagey about that," Jessica said. "I don't think he wanted mom to know — or the insurance agent."
As owner of A-1 Tool and Equipment Rental and Mini Storage, Pierson had a knack for working on old engines. The first tractor that he restored was an old one he found sitting on his father-in-law's farm.
"He started working on that and kept going," Jessica said.
Pierson had always planned to sell the tractors he restored. And he even worked in the years before his death as a member of Kansas Chapter 3 of International Harvester Collectors to bring the national auction to Kansas.
Of the 70 tractors auctioned this weekend, 27 will be ones Pierson restored.
Not all of Pierson's tractors will be auctioned. Jessica will keep one on her farm in Douglas County, which, aptly, is named Red Tractor Farm.
Copyright 2018 The Lawrence Journal-World. All rights reserved. This material may not be published, broadcast, rewritten or redistributed. We strive to uphold our values for every story published.