Kansas City, Mo. — Everybody sat back and waited for the 38-year-old quarterback who hadn't won as a starter since 2001 to make a critical mistake.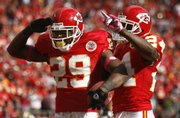 And they waited. And they waited.
Finally Todd Bouman did, and Derrick Johnson grabbed an interception and ran 15 yards for a game-changing, momentum-shifting touchdown.
Johnson's play put Kansas City on the road to a 42-20 victory over the Jacksonville Jaguars and a quarterback who proved a lot more savvy than most people thought.
"That's what the defense is supposed to do, make big plays," Johnson said.
Late in the fourth quarter, Bouman threw another interception that led to another TD. But the Chiefs came away impressed with Bouman, who was signed off the street by the Jaguars after their two top quarterbacks went down with injuries on Monday night.
"Did they really cut him in training camp?" cornerback Brandon Flowers asked. "I know he knew the system. But still, to come in without having any reps and play like that, I was impressed."
Bowman was 18-of-34 for 222 yards with two interceptions and his first two regular-season touchdown passes since 2005 for the Jaguars (3-4).
His 11-yard scoring pass to Mike Sims-Walker had cut K.C.'s lead to 21-20 in the third quarter.
But with a little over five minutes left in the third, Johnson stepped in front of Bouman's pass, and the Chiefs (4-2) outscored the Jaguars 21-0 from that point on.
"That was the turning point in the whole game," Chiefs safety Jon McGraw said. "That was the momentum-shifter."
The Chiefs, the league's top rushing attack, ran for 236 yards, and Matt Cassel threw two touchdown passes to Dwayne Bowe.
Bouman, out of football last year, was 11-of-19 for 152 yards and one TD in the first half.
"I came into the game feeling pretty confident," he said.
On the interception, he saw Johnson but threw the ball anyway.
"Looking back on it, I should have just went to my next read or thrown it away," he said. "It was one of those bang-bang plays that didn't go the way that I wanted."
In keeping with the Jags' recent luck at quarterback, Bouman said he hurt a finger on his throwing hand while trying to tackle Eric Berry after the rookie safety intercepted him in the final minutes.
He refused to say how bad the injury might be.
"I have no idea at this point," he said. "I will wait and see what happens. I will find out tomorrow. I got it caught in a guy's jersey trying to make a tackle."
Jacksonville coach Jack Del Rio sounded as though he would have no problem giving Bouman another start if David Garrard does not recover from a concussion.
"Todd played great," Del Rio said. "He played above what we hoped and needed from him today. We would like to have back the pick six there when it was a tight ball game. That marred what was shaping up to be a great day for him."
Berry returned his interception 35 yards to the 12 and Jackie Battle scored three plays later on a 1-yard run for the final score.
Bowe had two touchdown catches for the second week in a row. Thomas Jones had 125 yards and one TD on 20 carries, including a 70-yard run following a Jacksonville turnover.
The Chiefs, the third least-penalized team in the league coming in, hurt themselves several times. Berry drew a 37-yard pass interference penalty that led to Bouman's TD pass to Sims-Walker in the third quarter.
Then at the end of the half, cornerback Brandon Carr's pass interference penalty in the end zone set up the Jaguars for first-and-goal from the 1. But the defense held and Jacksonville had to settle for Josh Scobee's 19-yard field goal that made it 14-13 at the half.
Bouman threw his first regular season touchdown pass in five years to Maurice Jones-Drew with 9:38 left in the second quarter. Capping an eight-play, 71-yard drive, he lifted a perfectly timed fade pass as defensive end Glenn Dorsey came rushing in and flattened him.
Bowe caught a 6-yard TD pass in the fourth quarter and gave the Chiefs a 21-13 lead on the second play of the second half when he caught a 53-yard scoring pass.
Notes: It was Johnson's third career interception return for a touchdown and Kansas City's second this season. CB Brandon Flowers had one against Cleveland. ... Bouman was the first quarterback to start a game the week he'd been signed off the street since Daunte Culpepper started for Detroit against Jacksonville in 2008. ... Chiefs have scored 30 or more points in three games, first time since 2006.
Copyright 2018 The Associated Press. All rights reserved. This material may not be published, broadcast, rewritten or redistributed. We strive to uphold our values for every story published.