It wasn't the Lawrence High volleyball team's last match of the season, but the tears in senior Kelsey Broadwell's eyes said it all: The seniors desperately wanted to win their final match on Senior Night at LHS.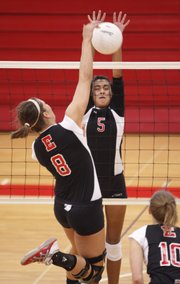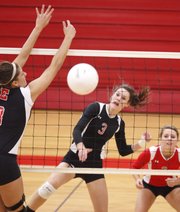 But Broadwell also knows the seniors can't dwell on their loss to Blue Valley North on Tuesday. The Lions head to Free State High for a city showdown match Thursday and have sub-state play Saturday in their home gym. LHS won its sub-state in both 2008 and 2009 to advance to the state tournament.
"I feel like tonight definitely hit hard, especially with the whole loss there," Broadwell said. "But I feel like we learned from it, and we want it more now that we lost that game."
The Lions faced a Mustang defensive style they hadn't encountered so far and lost, 25-22, 25-12. Both LHS (25-18, 25-13) and BVN (25-22, 25-9) defeated Emporia High in straight sets in the first two matches of the triangular.
In the long run, the result is essentially meaningless other than to determine sub-state seeding. Coach Stephanie Magnuson said it is much more important for her team at this point to be experiencing tough game situations rather than just practicing.
Senior Kendyll Severa said her team got a little too emotional from the Senior Night proceedings held before the final match. She's relishing the chance to spoil rival Free State's Senior Night on Thursday.
It certainly wasn't the end the six seniors — Broadwell, Severa, Nicole Bostick, Morgan Green, Kiely Mosiman and Karisa Sanders — wanted. Severa said she had been playing sports with the other seniors ever since she can remember.
"We've never had a group of seniors so tight," Severa said. "I don't think I've ever seen that before. It's not like we're just teammates, we're all really good friends, too."
Broadwell likened her senior teammates to members of her family.
"We are definitely one of closest teams I've ever played on," Broadwell said.
The reality that the season is almost over is sinking in with Broadwell and Severa. Asked about the Lions' sub-state appearances in 2008 and 2009, Broadwell immediately bent down and knocked on the hardwood gym floor.
"That's what we do all the time," Broadwell said.
Broadwell wasn't lying. The Lions broke their post-game huddle to knock on the wood panels in a hallway. Magnuson said she is extremely superstitious and has been a "knock-on-wood" kind of person for a long time.
"I don't give them a choice," Magnuson said.
She said she thought the seniors took the loss extra hard because they are such a tight-knit group and have played with each other for so long.
"They deserve a ton," Magnuson said. "They deserve everything they've worked so hard for."
Thursday's match against Free State starts at 6 p.m. in the Firebirds' gym.
Copyright 2017 The Lawrence Journal-World. All rights reserved. This material may not be published, broadcast, rewritten or redistributed. We strive to uphold our values for every story published.