Philadelphia — When the Philadelphia Phillies and San Francisco Giants meet in the NL championship series, runs could be awfully scarce.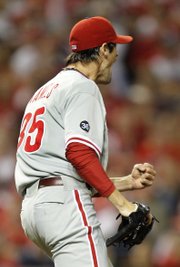 These teams have perhaps the two best starting rotations in the majors. For the Phillies, it's Roy Halladay, Roy Oswalt and Cole Hamels. For the Giants, it's Tim Lincecum, Matt Cain and Jonathan Sanchez.
The Phillies feature three aces who have 11 All-Star games, one Cy Young Award, one NLCS MVP award, one World Series MVP award, one perfect game and one no-hitter on their impressive resumes.
The Giants' Big Three have combined for four All-Star games and two Cy Young Awards.
Game 1 is Saturday night at Citizens Bank Park. Get set for The Freak vs. Doc.
Lincecum, the two-time reigning NL Cy Young winner, is expected to start for the Giants. Halladay, the leading candidate to win his second Cy this year, should get the ball for the Phillies, even though manager Charlie Manuel wouldn't commit to announcing his starter.
"They're different sizes, different pitchers, really," Manuel said. "They call (Lincecum) a freak. I don't know if he's a freak or not, but his style is different. I hear people talk about his mechanics, but he does everything the pitcher is supposed to do. He's special. He's got a tremendous changeup, fastball, breaking ball. And when he's real good his command is good.
"Halladay, on the other hand, is bigger, stronger. He's got more pitches, and I would say Halladay definitely has more command of the strike zone than Lincecum has. But on any given day he can be powerful, too," Manuel said.
Halladay finished 21-10 with a 2.44 ERA in his first season in Philadelphia. He led the majors in wins, complete games (nine), shutouts (four) and innings (2502⁄3).
Halladay threw a perfect game in May, and nearly matched that in his playoff debut. He tossed the second no-hitter in postseason history in Game 1 of the division series against Cincinnati.
"Big Roy is big Roy," Manuel said.
Lincecum had an up-and-down year after emerging as the most dominant pitcher in the league in his first two full seasons. The hard-throwing righty rebounded in September after a career-worst five-start losing streak in August, and finished 16-10 with a 3.43 ERA.
In his playoff debut, Lincecum tossed a two-hitter in San Francisco's 1-0 win over Atlanta in Game 1 of their series.
Copyright 2018 The Associated Press. All rights reserved. This material may not be published, broadcast, rewritten or redistributed. We strive to uphold our values for every story published.