Landover, Md. — When the Washington Redskins beat the Philadelphia Eagles, the winner's locker room reverberated with laughter and celebration. Donovan McNabb received the game ball from coach Mike Shanahan, and players demanded a victory speech from the quarterback.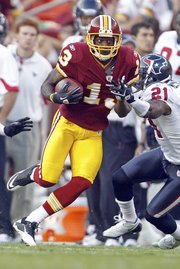 When the Green Bay Packers beat the Detroit Lions, the victors were in no mood to frolic.
"We always pray when we come back in," Green Bay coach Mike McCarthy said, "and usually there is some excitement. You would have thought we lost."
Such is the state of these two teams as they prepare to meet today. The Redskins are psyched to be 2-2, while the Packers are a bit miffed at how they've arrived at 3-1.
"Different expectations," Washington linebacker Lorenzo Alexander said. "There were a playoff team last year, and we weren't. We're pumped to be 2-2 coming off a great win. It's just all perception. We're still growing as a team; they're supposed to be in the Super Bowl this year. I'm pretty sure they think they should be blowing teams out."
Cue Donald Driver, who expressed that very sentiment about the Packers' way-too-close 28-26 victory over the winless Lions.
"We knew we should've blown that team out the window," Driver said. "I think that's what hurt us when we came in and why there wasn't all the laughing, jumping up, joking, screaming. If Detroit would've beat us, they would've run on the field like nuts. But you know you're a better team than the way you played, and when you do that, you get frustrated and want to figure out why you made the game closer than it had to be."
So if this isn't the week that the Packers get their championship act in gear, the Redskins could be sitting nicely with an unexpected winning record five weeks into the season. They're 2-0 in the NFC and have already won half as many games as they won all last season, making Shanahan sound not so pie-in-the-sky when he discusses playoff permutations.
"If you win your division, you're guaranteed a home playoff game," the coach said this week. "What better way to start the postseason that with a game in your backyard?"
Copyright 2018 The Associated Press. All rights reserved. This material may not be published, broadcast, rewritten or redistributed. We strive to uphold our values for every story published.