Manhattan — Instead of resenting No. 7 Nebraska for leaving the Big 12, maybe Kansas State should thank the Cornhuskers.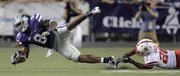 Who wants to keep playing a team that always beats you silly?
Quarterback Taylor Martinez rushed for 242 yards and four touchdowns and Nebraska ended a 99-year rivalry in the same lopsided fashion it began, thrashing the slower, outmanned Wildcats 48-13 on Thursday night.
Martinez, a redshirt freshman, pushed his five-game rushing total to 737 yards and also threw a 79-yard scoring pass for the Huskers (5-0), who head off for the Big Ten next year with an domineering overall record against Kansas State (4-1) of 78-15-2.
Unbeaten in their first four games and with senior running back Daniel Thomas averaging 157 yards per game, Kansas State fans had hoped to send the Huskers out the Big 12 door with a loss.
But the Wildcats were helpless against such offensive and defensive speed and the night belonged to Martinez. He broke the team record for rushing yards by a quarterback and tied the team mark for rushing TDs by a quarterback while Thomas was held to 63 yards on 22 carries.
"Pretty much everything we ran was clicking pretty good," Martinez said. "I was making the right reads. I just do what I can do — make plays."
Nebraska was expecting a pumped-up crowd for its last appearance in Manhattan.
"We are going to play all of these teams in the Big 12 for one last time in the near future," Nebraksa coach Bo Pelini said. "So there is probably motivation there on both sides."
Martinez's rushing total broke Jammal Lord's Nebraska record for a quarterback and his four rushing TDs tied the team quarterback mark. He was 5-of-7 for 128 yards as the Huskers piled up 587 yards of total offense in the conference opener for Nebraska.
He was replaced by Cody Green with almost 10 minutes left.
"I thought he was the fastest I've ever seen at quarterback," Kansas State defensive end Antonio Felder said of Martinez. "He's got a lot of speed. If you've got a good angle on him, he can still outrun you."
It was not the sort of birthday present Kansas State coach Bill Snyder wanted. He turned 71 on Thursday.
"Happy birthday," he said grimly as he opened his postgame news conference. "I hope yours was better than mine."
Snyder said Thomas' second straight sub-par game was not altogether his fault.
"A significant part of it is us," he said. "Daniel is a very fine player. But like any other player, it takes a whole bunch of guys to make it happen. You know Martinez is an extremely fine football player, but you know he had some help tonight as well."
Snyder, who dislikes comparing players, admitted he did not recall a faster quarterback than Martinez.
"He's awfully quick. He's more than just quick. He's quick and he's fast," Snyder said. "And we're not very fast."
Nebraska's scoring drives in the third quarter covered 80 yards in three plays, 68 in one and 80 in two. Roy Helu had the 68-yard touchdown run for Nebraska.
"The fans were saying some pretty harsh things when we got here, so we had to shut them up," said Nebraska wide receiver Niles Paul.
Copyright 2018 The Associated Press. All rights reserved. This material may not be published, broadcast, rewritten or redistributed. We strive to uphold our values for every story published.