St. Petersburg, Fla. — Cliff Lee, postseason ace for hire.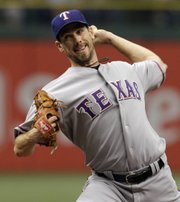 Picking up where he left off during in a dazzling October run a year ago, Lee shut down the Tampa Bay Rays while outpitching David Price and leading the Texas Rangers to a 5-1 victory Wednesday in the opening game of the AL playoffs.
"I like pitching on a big stage," Lee said. "Just pitching in the big leagues alone is an honor, but when you get an opportunity to make it to the postseason, that's what it's all about. That's what you play all year for. I enjoy it, and I try to have fun with it."
Lee matched a postseason best with 10 strikeouts while allowing five hits — just two after escaping a bases-loaded jam in the first inning. During one dominating stretch, he retired 16 of 17 batters before giving up Ben Zobrist's homer in the seventh.
"It's not time to sit here and pat myself on the back. We've got a lot of work to do," Lee said. "I feel good about helping us get off to a good start, and hopefully I can continue to do the same. That's what I expect to do."
Game 2 is today, with left-hander C.J. Wilson taking the mound for Texas against right-hander James Shields, who hasn't won since Aug. 29.
Lee improved to 5-0 in six career postseason starts. He went 4-0 with a 1.56 earned-run average in five starts for the Philadelphia Phillies in 2009, including 2-0 with a 2.81 ERA against the New York Yankees in the World Series.
The 32-year-old lefty lost to the Rays three times during the regular season, however the AL East champions were no match for the 2008 AL Cy Young Award winner this time. The Rangers, in the playoffs for the first time in 11 years, stopped a nine-game postseason losing streak that began in 1996.
Nelson Cruz and Bengie Molina homered for the AL West champions. Darren O'Day and Darren Oliver pitched the eighth, and rookie Neftali Feliz worked out of a ninth-inning jam by striking out the final two batters.
Price, a 19-game winner, allowed five runs and nine hits in 62⁄3 innings. He struck out eight and, like Lee, walked none.
"It's very frustrating," Price said. "I wasn't at my best. It's tough to swallow."
Lee began this season with the Seattle Mariners, who dealt him in early July to Texas, which was looking to bolster its rotation with a No. 1 starter capable of leading the Rangers deep into the postseason. Philadelphia acquired him from Cleveland during last year's run to the NL pennant, and the lefty is eligible for free agency after the season.
The Rays beat him twice while he was with the Mariners, and once with the Rangers during Tampa Bay's three-game sweep of Texas at Tropicana Field in August.
Tampa Bay had opportunities against Lee early, but failed to score after Jason Bartlett, Carl Crawford and Evan Longoria singled to load the bases in the first. After giving up a leadoff double to Zobrist in the second, Lee retired 12 batters in a row in front of a sellout crowd of 35,474.
"Just locating pitches, working ahead in the count," Lee said. "When I got out of the first inning, I knew things were going to go well."
For Tampa Bay, it was a continuation of an offensive funk that began two weeks ago. The Rays lost six of 10 games down the stretch — all against last-place teams — before clinching their second division title in three years on the last day of the season. They dropped five of six during part of the stretch, three by shutout.
Texas is in the postseason for first time since 1999 and its nine-game playoff losing streak had matched Minnesota and the Chicago Cubs for the longest active skid in the major leagues. All three of the Rangers' previous playoff series were against New York, with their only other postseason victory coming against the Yankees on Oct. 1, 1996.
"I thought the game was really kind of won or lost there in the first inning," Texas pitching coach Mike Maddux said. "Both pitchers had their backs to the wall. Cliff got a couple big punchouts there. He gave up three hits in the first ... no hard contacts. He battled up right there and put up a huge doughnut. That was a big zero. Then we come back and we score. Momentum kind of went our way and Clifford got better as he went along."
Price played a key role in Tampa Bay's surprising run to the World Series two years ago.
Price has never beaten the Rangers, though, going 0-2 with a 7.45 ERA — his highest against an AL opponent — in four regular-season starts.
Copyright 2018 The Associated Press. All rights reserved. This material may not be published, broadcast, rewritten or redistributed. We strive to uphold our values for every story published.