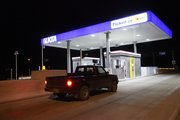 After months of waiting, motorists in Lawrence can now get on the Kansas Turnpike in north Lawrence once more.
The Kansas Turnpike Authority shut down the toll plaza earlier this year as part of its multi-year effort to replace two bridges over the Kansas River and otherwise improve the turnpike as it passes through Lawrence.
Motorists leaving Lawrence were allowed to use the East Lawrence toll plaza as of 6:30 a.m. Wednesday. According to the Kansas Turnpike Twitter account, all ramps at the exit opened just after 8:30 a.m.
Motorists using the new East Lawrence toll plaza are reminded that the area is still part of an active construction zone and turnpike officials urged them to use caution.
The opening of the East Lawrence exit, also, has no impact on the lane closures that have been going on between Lawrence and the new Tonganoxie/Eudora exit. Those are expected to conclude for the year in November, with work resuming next spring.
Copyright 2018 The Lawrence Journal-World. All rights reserved. This material may not be published, broadcast, rewritten or redistributed. We strive to uphold our values for every story published.