One of the songs on Lawrence High's pregame playlist Friday night was "Celebration" by Kool and the Gang.
Photo Gallery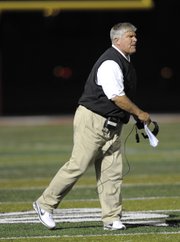 LHS football vs. Olathe East
"Coach came over and said, 'We want to be singing that after the game tonight,'" sophomore quarterback Brad Strauss said.
About three hours later, the players fulfilled Dirk Wedd's wish, singing their own boisterous version in the locker room.
Lawrence 27, Olathe East 21.
"I told the kids before the game that we were going to let it all out, and we were going to give them the best shot we could," Wedd said.
The Hawks (4-1) beat Olathe North, last year's 6A state champion, 25-0 two weeks ago. They throttled Leavenworth, 62-6, last week.
Lawrence (3-2) was coming off a frustrating 23-20 loss against Shawnee Mission Northwest.
"Maybe in the scheme of things, we needed to have that game last week for us to win this week," Wedd said. "You have to learn to win. That's sad to say. It's bad to say when you're the coach from Lawrence High, but that's where we're at right now, building this thing from the ground up."
Wedd didn't wait long to open up his playbook — the Lions attempted on onside kick on the opening kickoff. Junior Anthony Rosen performed it well, but the ball hit a Lawrence player before it could go the necessary 10 yards.
The Olathe East rushing attack, led by speedy senior Brandon Willingham, moved the ball to the Lions' three-yard line, but a fumble by senior Austin Fulson gave the Lions the ball back.
"If they could have scored there, it would have been a totally different ballgame," Strauss said.
After three short runs, the Lions faced a fourth-and-inches at their own 10-yard line.
Wedd stuck to his Vegas mentality and kept his offense on the field. Senior fullback Darrin Sorem picked up the yard right up the middle.
"We needed to do it because by getting those plays, we knew that we could play with them," Sorem said. "If we could punch them and get that one yard, we knew we could do just about anything."
Later in the drive, the Lions ran a reverse wide receiver pass on fourth down and four at the Hawks' 33-yard line. Junior Garrett Cleavinger floated the ball to senior Austin Flory for a 23-yard pickup.
Rosen missed the field goal wide-right, but the message was clear — Wedd wasn't afraid to take some risks. The score was tied 7-7 at halftime.
The Hawks scored on their first possession of the half, but the Lions found themselves tied at 21 with 7:23 to go.
"I really felt like the longer we played, once we got to the fourth quarter, there was some doubt in their mind over on the sideline," Wedd said. "We felt like we could win it."
Olathe East senior quarterback Trent Kuhl fumbled, and very quickly Lawrence found itself with first down and goal to go. Two penalties slowed down the drive, but sophomore quarterback Brad Strauss found senior Chris Gaston for the go-ahead touchdown.
The LHS defense held inside its own red zone with less than five minutes to go, and Strauss effectively ran out the clock for the 27-21 victory.
"I thought we could win this game all week," said Strauss, smiling instead of tearing up like he did last week.
Sorem said the players needed to go to bed early — after a traditional visit to Pizza Shuttle, of course — so they would be ready for today's 8 a.m. film session. The Lions play Shawnee Mission West on Thursday, so they have less time to prepare.
But last night was their time to, well, celebrate.
"This is a huge win for our program because we've had a few down years lately," Strauss said. "Hopefully this can get things turned around for us."
Copyright 2018 The Lawrence Journal-World. All rights reserved. This material may not be published, broadcast, rewritten or redistributed. We strive to uphold our values for every story published.