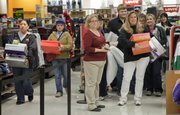 They started early. Or late, that is.
Shoppers began lining up outside Old Navy, 3234 Iowa, about 10 p.m. Thanksgiving Day at the first Lawrence store to open on Black Friday 2010.
At midnight, the eager shoppers who braved below-freezing temperatures filed into Old Navy as store employees welcomed them with "everything's on sale" greetings.
Leah Coons, 14, explained why she waited in line for two hours: the X-Box game giveaway Old Navy was offering. All she'd have to do is be one of the first 30 customers in the door and spend $25.
"That's really easy to do," said Leah, whose early arrival ensured her sixth place in line.
Following a family Thanksgiving Day party, she'd get her shopping done quickly and head to bed.
"I need to sleep. I haven't done that yet," she said.
As Coons rushed through Old Navy, the crowd was just beginning to form next door at Kohl's, 3240 Iowa. Inside, store managers prepped employees on how to direct customer traffic on what is traditionally considered the busiest retail day of the year. Across the country, stores were expecting more than 130 million people to walk through their doors.
Outside, Ottawa resident Windy Gibbs sat in a lawn chair checking her shopping list for all the items she'd be buying at Kohl's, Target, Home Depot, Sears and J.C. Penney's. The list, created off a website, gave her a detailed rundown of how much each item should cost with all the holiday discounts. She does this every year, and has learned to arrive at stores early and ready.
Was she setting a strict budget on her shopping adventure?
"Oh no," said Gibbs, admitting that the deals would probably get the best of her pocketbook.
While Gibbs could make a case for the most-prepared shopper, Roshan Liyanage of Lawrence could make an equally strong case for most-dedicated shopper for his all-night effort at Best Buy, 2020 W. 31st St.
Liyanage said he arrived in line at the store around 10 p.m., but shoppers farther down the line were skeptical. Maybe Liyanage was just being modest, but his fellow bargain hunters estimated his arrival around 7 p.m. In total, Liyanage spent 10 hours in front of the store.
Liyanage would stroll into Best Buy for the 5 a.m. opening and wander among the electronics with other blanket-draped shoppers.
But as he shivered away with at least 100 others outside the store, he talked about his plans. He had his eye on two computers and a 46-inch flat-screen TV.
"I'll probably buy some other things," he said, beaming a toothy grin at the thought of his new toys.
Copyright 2018 The Lawrence Journal-World. All rights reserved. This material may not be published, broadcast, rewritten or redistributed. We strive to uphold our values for every story published.