Kansas University's volleyball team has one match remaining in the regular season and needs two major upsets to come through in order to gain an invitation to the 64-team NCAA Tournament field.
Photo Gallery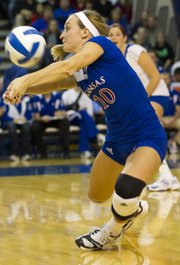 KU volleyball vs. Kansas State
The first shocker would have to come Saturday in Norman, Okla., against the heavily favored Sooners. The second long shot would be that an upset of Oklahoma would be enough to make the field as the seventh-place team in the Big 12.
Wednesday against rival Kansas State at Horejsi Center, the Jayhawks showed spirit in forcing a fifth set after losing the match's first two sets.
But Kansas State had little trouble winning the decisive set and won the match played in front of a passionate sellout crowd, 25-23, 30-28, 21-25, 21-25 and 15-6.
Four seniors — Karina Garlington, Jenna Kaiser, Melissa Manda and Mel Townsend — gave speeches after their final action at Horejsi.
"They're so disappointed," Bechard said of the seniors. "It's going to be a good night for them, but it could have been special if we could have come back and made it happen."
Kansas (16-14 overall, 7-12 Big 12) has made the NCAA Tourney three times, all in a row (2003-2005), and isn't likely to be on the road to The Final Four in Kansas City this year.
"You try to talk to the seniors on the court about making the moments on the court the most important, but I know there were a lot of things swinging through their heads," Bechard said. "Senior nights can become in some ways bigger than what they need to be if you can't block that out, but I thought they did a pretty good job tonight."
Garlington finished with 17 kills, but also had 12 errors. Kaiser had 15 kills and 11 errors. Junior Allison Mayfield had 12 kills and eight errors. On the night's most impressive kill, Mayfield showed the bounce that made her a four-time state champion in the high jump for Overland Park Aquinas.
Freshman Brianne Riley, the team's most vocal player, had 30 digs.
A crucial call that went against Kansas late in the second set sent heads shaking in the stands and played a big part in the night not going KU's way, but Bechard didn't use it as an excuse afterward.
"We didn't get a lot of breaks, but we didn't make the plays we needed to," Bechard said.
Copyright 2018 The Lawrence Journal-World. All rights reserved. This material may not be published, broadcast, rewritten or redistributed. We strive to uphold our values for every story published.