Photo Gallery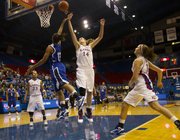 KU women's basketball vs. Texas A&M-Corpus Christi
Even as Kansas University women's basketball forward Carolyn Davis crouched at midcourt awaiting the opening tip, she was easily a full head taller than her opponent.
Davis won the tip before floating in a layup on KU's opening possession, then used her superior size and length to control the game whenever she was on the floor.

Backed by 22 points in only 20 minutes from Davis, the Jayhawks coasted to a 85-44 trouncing of Texas A&M-Corpus; Christi on Wednesday night at Allen Fieldhouse.
"Throw her the ball until you can't throw it to her anymore," coach Bonnie Henrickson said of her efficient forward.
Junior Aishah Sutherland had 13 points and 13 rebounds, and Monica Engelman chipped in 10 points and five rebounds, but it was the 6-foot-3 Davis for whom the Islanders — who have only a handful of players listed at 6-feet-tall — had no answer.
"Because of their size, they were pretty much able to do whatever they wanted to," A&M-C.C; coach Robert Robinson said.
"The effort was there," Robinson said. "But obviously we're way undersized and undermanned, and it just made things pretty easy for those guys."
Davis scored 12 of KU's first 14 points, hitting all six of her attempts, before being subbed out of the game.
Davis, a natural finisher, quickly snatched passes and scored smoothly at the rim, whether KU was in the half-court or running in transition.
On one occasion, Davis barely even had to leave the floor to snatch an offensive rebound over two Islanders and gently lay it in.
In all, Davis poured in 20 first-half points in just 15 minutes on 9-of-10 shooting and finished the game 10-of-13.
Had she not sat comfortably on the bench for most of the second period, she could have finished with many more.
"It was really easy," Davis said. "It was honestly easier than I thought it was going to be. It kind of surprised me."
But Davis' effort aside, Henrickson was far from pleased with Kansas' performance as a whole.
"Just flat and disappointing," Henrickson said. "We had a couple stretches where we were decent, but not many. I guess it will be a great teaching tape."
Overall, the Jayhawks' lackadaisical handling and passing of the ball irked Henrickson the most.
"Twenty-nine turnovers the rest of the year isn't going to get us on the right end of it," Henrickson said. "That's awful."
Davis agreed that the Jayhawks need to play much better — even in preparation for Sunday's road test at Wisconsin.
Davis also took her performance at face value and is eager to be tested against bigger, more physical opponents.
"We can't rely on just our skill or talent, or things like that to win games," Davis said.
Notes
— Senior Marisha Brown made her first career start and finished with eight points, five rebounds and two steals in 23 minutes.
Brown sustained an injury to her right foot midway through the second half, though, and was being checked by doctors after the game. Her status is still undetermined.
— Angel Goodrich had her most active game since returning to the court from injury. She finished with five points, six assists and five steals in 20 minutes.
Copyright 2018 The Lawrence Journal-World. All rights reserved. This material may not be published, broadcast, rewritten or redistributed. We strive to uphold our values for every story published.